Car Graphics and Car Wrapping in Brooklyn, NY
So many cars are just the same vehicles that you see everywhere. In order to make your vehicle stand out and be the one-of-a-kind car that you want, you need to consider adding some car graphics or a car wrap from Park Press Printers. Adding car graphics can provide a way to customize your car, whether that is on the glass surfaces or on the body of the car. The other option to consider is car wrapping, where a vinyl overlay is applied to the entire body of the car. This provides the ability to even change the color of the vehicle, as well as providing some protection to the vehicle as well.
Truck Graphics and Truck Wraps in Brooklyn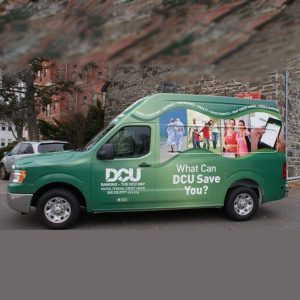 Often the different trucks that you see in traffic belong to different businesses. But what do those businesses do? Why do they need the vehicles that they have? If there were truck graphics on the vehicles, you could know what they do, and the vehicle choice would make sense. Maybe they are a local moving company that needs box trucks for moving homes and offices. Or they might be a plumber using a van to keep all of their tools and parts.
Whatever the business is, having truck graphics on your business vehicles will mean that you have moving billboards driving through town advertising your business. Not only that but when the vehicles are seen at a job site, for example, that tells people that your business is involved in different projects in the community, from remodeling homes to building new commercial buildings. Sometimes it is more effective to do a truck wrap on the entire truck or van. In this way, you can get uniform graphics on all of your vehicles, and the color of each vehicle can be the same as well to help reinforce your brand in people's minds.
Vinyl Car Wraps, Vinyl Wrap and Vehicle Wraps in Brooklyn, NY
These graphics that you are looking to put on your vehicle are really vinyl graphics and wraps. This material is perfect for adding important graphics to your personal vehicle or your work vehicles, as well as being ideal as vinyl car wraps. The vinyl wrap material actually helps to protect your vehicle from damage such as small rocks. This means that your investment in your car or truck will last longer, and the vinyl vehicle wrap can easily be taken off to return it to its original condition.
Please note that our Brooklyn location is a sales office and no production is available onsite. We are still happy to provide you with our services, but please be aware that all production is completed from our Saugus location.
Brooklyn has 30 miles of shoreline, with a number of beaches, which often surprises visitors to the city. Several different breakthroughs happened in Brooklyn, including the development of the artificial sweetener Sweet 'N Low, a now-common fair staple of deep-friend Twinkies, the nation's first roller coaster, the nation's first bank credit card, as well as Nathan's Famous Hot Dogs.