Are you just starting out with your business? Owning a business and running is not a very easy task. You have to not just deliver quality products and services but must also work towards promoting it better. Once your brand becomes more familiar among your target audience, you will automatically see an increase in your sales. One of the right ways in which you can promote your company better is by investing in certain printing services. That is why it is important that you look for a company which will offer you a variety of large format printing or union packaging services including signage service, billboards, self-adhesive graphics, vehicle wraps, direct mailing services, kitting and fulfillment services and so on. We, at Park Press Printers, is the right choice for you. We bring you a wide variety of award winning services including union label printing, newspaper printing, or custom business portal. With our 80 years of experience and great quality services, we have become one of the preferred choices in all across Boston and all over the North Shore.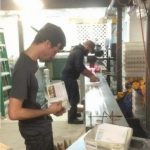 Here, we have put together a few essential ways you can find a good printing company for your branding needs. Take a look.
Most of the big companies always hire top printing services for business promotions. If you share the same circle with them, you might also come across a few names. So, take referrals and recommendations from other companies before you choose a particular company for your printing needs.
Nowadays, there is no information that is not updated on the internet. So, you should also look up the internet once and read about the companies offering such printing services. Go through the customer ratings and feedback provided to get a better understanding.
And if you are interested in hiring us, then call us at (781) 233-0315 now.