Sign Company in New Bedford, Boston, Lowell, Worcester, Peabody MA, and Nearby Cities
Every business owner is dependent on intelligent marketing and promotions to expand their business. With Park Press Printers and Direct Mailing, you will get a whole new level of experience in advertisement. Being a sign company in this business for more than 80 years we know what will work for the company or its niche audience. we have a dedicated team of specialists who will offer you services at the best price all the while adhering to the highest quality of industry standards. Irrespective of the size of our project, we deliver to our commitment, take full responsibility for our work and aim to satisfy our customers. To keep up with the ever-evolving industry, we incorporate the latest methods and procedures into our work plan. With the craft and skill of our workmen along with the latest technology we are able to deliver our promise of standard service and the high-quality final product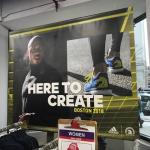 Below we have mentioned a few other types of services we provide as a sign company. Take a look.
Direct mail is a vital part of marketing. We help you to get your printed papers out there in the market and reach the target place and people you want. We have our own in-house letter shop division which processes a mailing list for every marketing preference.
In times where the printing industry is changing rapidly, we offer you cost-effective solutions. With our unique blend of skill, experience, and technology we stand apart from our competitors. To make your life simpler we have come up with multi-faceted printing equipment that can deliver you value for money results.
For commercial union graphic installations, we have extensive printing capabilities including large format printing. In materials, we use canvas, vinyl, fabric, and even poster-paper; all with self-adhesive options. With the capabilities of our creative team, no installation project is too big or small for us.
So, if you are looking for a sign company in the regions of New Bedford, Boston, Lowell, Worcester, Peabody MA, Cambridge, you can call us at (781) 233-0315.