One First Impression.
Many Lasting Impressions.
Award Winning Print Solutions 
Expert Union, Census, Letterpress, Newspaper,
Political Campaign Printers, & Sign Company in Boston
Services directly available to you at our all-in-1 shop include:
Unions unite! Union Label Printingcomes in handy If you need to keep all of your publications and print materials union-friendly. As a member of the CWA, Park Press has the ability to display our union bug on any of the jobs that we print. This shows the people your organization is trying to reach that your assets are handled by union employees. 
We can create V.I.P. section on our site just for your business. With your custom storefront, you can quickly order stationery, marketing pieces or any other printed material that we have prepared for you in the past. If your business has more than one location, your Park Press portal is the perfect solution. Since each location has its own portal code, you can login to see the items specific to that location. Access to our eDocBuilder allows real time product design.
Newspaper Printing is a fantastic and economical way to get your message out to those within your region or all around the country. Tabloid and broadsheet papers can be customized with different sizing, paper, page counts, color pages and insert nesting. Combined with our in-house mail shop, having your papers delivered to your selected areas is easy, affordable and fast.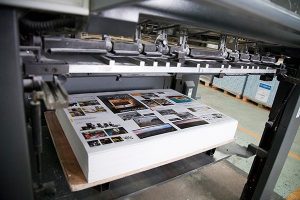 Expert Union Printing Services in Boston and the North Shore
Park Press has been providing union print services in Boston, Saugus and all over the North Shore for over 80 years.
We provide a variety of services in house, including large format printing, union newspaper printing, copies, booklets, letterhead, sell sheets, newsletters, banners, copywriting, direct mail services and other union print services.
Our customers are saying a lot of really great things about us! See what they are saying, or write a review.
Testimonials

I appreciate this so much I was a little late on notifying you and sending in the PDF and once again your company came through and produced an amazing paper and a speedy delivery we're all so grateful!
Sibley Dickinson
Noble and Greenough School

That's fantastic! You guys have really impressed me with these orders. I don't think I've worked with a print shop this flexible and agile the whole time I've been in art production. Thanks for the hard work! I look forward to seeing the result!
Nathan Cheatham
Cognitive Scale
Gabe, Brian,
I just want to say thank you for the amazing job you did with the postcards. They are by far the best-looking piece of campaign literature that my dad's put out since his first campaign in 2003. He's so pleased and we are both eagerly awaiting them to hit mailboxes throughout the ward.
As always, great work!
Beth

Brian, Bill, and Gab, 
I just want to send you guys a quick note to thank you for the superb service you have extended to all of us at Beyond Walls over the past few weeks. I recognize that you guys put many of our orders on a rush in order to accommodate our short project timeline - thank you! Not only were all the print materials of superb quality - you guys went the extra mile with some minor design work and always delivered it with a smile. Undoubtedly the best customer service we've experienced with a print shop! Again, we are so grateful for your help, professional service, and top-notch product quality. We look forward to working with all of you in the future. 
----on behalf of the Beyond Walls Team, thank you!
Pedro Soto
Beyond Walls
Dear Gabriel,
Thank you very much, Gabriel, for all the work you put in to get the job done by 7:30. They look great. I look forward to working with you in the future. 
Andres Perez
The Revere
Kevin, thank you for the help with my campaign. I will refer as many ppl to as I can. Are you on Facebook? cause I would like to give you a  great review as well as add some pics. Have a great weekend.
Bryan Snow
Committee to Elect Bryan Snow
Hello Bill and Gabriel,
 Brian dropped off the folders and business cards today.  All we can say is WOW!  They exceeded our expectations.  Donna and I are quite pleased with the results.  Thank you very much for your suggestions, creativity, customer service, and most of all patience.  We realize that we were making small changes near the end.  That said, the results were worth it.
 Thank you,
Albert
Albert P. Lanzillotti, II CPA
Thank you for turning that around so quickly! We are so appreciative!
I hope you both had a wonderful Thanksgiving.
Thanks,
Lizzie
Corporate Accountability
Hi Gabriel! 
I hope you are doing well. 
From the staff at the Nobleman; I'd like to start out by saying thank you for all your help with the printing of the newspaper. We are always so impressed with the quality, customer service, and overall experience with Park Press! 
Thanks again for all your hard work! 
Best,
Lizzy Rueppel
Noble and Greenough School 

I just wanted to give a big THANK YOU to you, Gabe and the rest of the Park Press team for getting all of this done for us over the weekend and this week. We really appreciate your efforts in helping us meet these deadlines.
Kate Marr
Infinite Media