Description
The expression "ADA Signs" has come into normal use in the engineering, development and signage ventures with the coming of the Americans With Disabilities Act, or ADA. The Americans with Disabilities Act directs availability and incorporates prerequisites for signage that is strategically placed and easy to read both visually and by touch. 
"ADA Signs" is once in a while misconstrued as being synonymous with braille signs. Although Signs with braille and raised characters are the most noticeable indications of the law, the sign models in the ADA Accessibility Guidelines (or ADAAG) require significantly more than simply braille and raised characters on certain signs.
As a rule, pretty much every sign that would be viewed as a "building" sign must conform to some of the ADA Guidelines. If a sign recognizes a changeless room or space of an office (counting exits), coordinates or educates about practical spaces of the office, or distinguishes, coordinates to or illuminates about open highlights of the office, it must go along. Signs for promoting and showcasing purposes, brief signs, organization logos, and names are instances of signs or segments of signs that don't need to consent.
There are six main requirements that must be met when displaying your ADA Signs.
1.) All signs (with the exception of intelligent stopping and other traffic signs) must have non-glare foundations and characters. Glare and reflection are a significant issue for people with vision debilitations, and especially for the elderly. 
2.) All signs that contain visual characters must have a high dark to light (or the other way around) differentiate among characters and their experience. The important issue is not color, but lightness and darkness: a sign with very light gray letters on a charcoal gray background would be acceptable, but a sign with red letters on a black background would not.
3.) All signs must have "simple to read" typefaces. There are different rules for signs that identify rooms and spaces, versus signs that direct and inform. This is because persons who are "functionally blind" (have no usable vision) are able to locate doors and therefore can locate signs adjacent to doors that identify them but have no consistent way to find directional and information signs that could be located anywhere along corridors.
4.) Directional and informational signs can use upper and lower case letters (recommended by many experts for visual readability) and "simple" serif typefaces of a non-decorative nature. Basically, don't get too fancy with your typeface. Condensed or extended typefaces are unacceptable. Make sure you are using strokes with medium weight, not too bold and not too thin. The size of the letters is dictated by the distance of the sign from the expected position of the sign reader. 
5.) ADA signs that identify rooms and spaces are to be located adjacent to the door they identify so they can be located by persons who are functionally blind. For the most part, one sign is used by both tactile and visual readers, so there are compromises to assist tactile readers.
6.) There are four symbols that stand for accessibility. One is the familiar International Symbol of Access or "wheelchair symbol." This is used generally to show that persons with mobility impairments can access entrances, restrooms, or pathways. Three are specifically for persons with hearing impairments: the "ear" symbol is the International Symbol of Access for Hearing Loss and is used to show the availability of an assistive listening system. The "keyboard" symbol stands for a TTY or text telephone. The "phone" symbol with sound waves stands for the availability of a volume-controlled phone.
We are proud to announce that we now offer ADA Signs that are perfect for directional guidance in offices, hospitals, retails, schools to help visitors navigate through the building with ease. 
Our ADA Sign systems provide affordable, modular wayfinding signage perfect for your patrons. From wall frames to self-standing pylon directories and everything in between, Park Press offers the directional indoor signage you need to make your facility compliant with ADA regulations. We are proud to boast our ability to customize your order; we can build frames and signs suited to your exact specifications. 
Our frames accommodate a multitude of sign substrates, from printed paper inserts mounted with your protective lens, to laminated prints, cut vinyl, photopolymer, ADA faces, engraved plastics, metal and more. We ensure to work with you based on the material best suited for the project.
Aluminum frame extrusions are offered from 6" to 32" wide, at varying heights. Frames include round or square-shaped profile and are available in anodized silver or powder-coated black. Each frame comes with plastic end caps are offered in gray or black. Frames come standard with a clear, non-glare lens. Tape mounting is included in each structure but for holes, there will be an additional charge.
Portrait style frame shape offered in your choice of round or square-shaped. Frames located on the left & right sides. Configure the directory header to be placed as you desire.  Frame color choice of anodized silver or black. Dividing strips & end caps match the frame color of choice. Inserts can be replaced individually. The dividing strips adhere to the frame and can be placed anywhere you desire. Directories come in a variety of sizes and custom sizes available.
Our Projecting ADA Signs allow you to combine multiple frames with a top & bottom header. Frames are located on the left & right sides below the header. Choose between anodized silver or black for your frame color. We will match the dividing strips & end caps with your frame color. Inserts can be replaced individually and as always we offer custom sizes.
Double-Sided Projecting Signs
Along with our standard Projecting Signs, we also offer Double-Sided Signs. The Double-Sided Projecting Signs are in landscape orientation or portrait.  Like the standard, the frames are located at the top and bottom and offered in silver and black colors. The Double-Sided Projecting Signs also come with a non-glare lens, fully assembled. Again, projecting signs come in a variety of sizes and custom sizes are available upon request.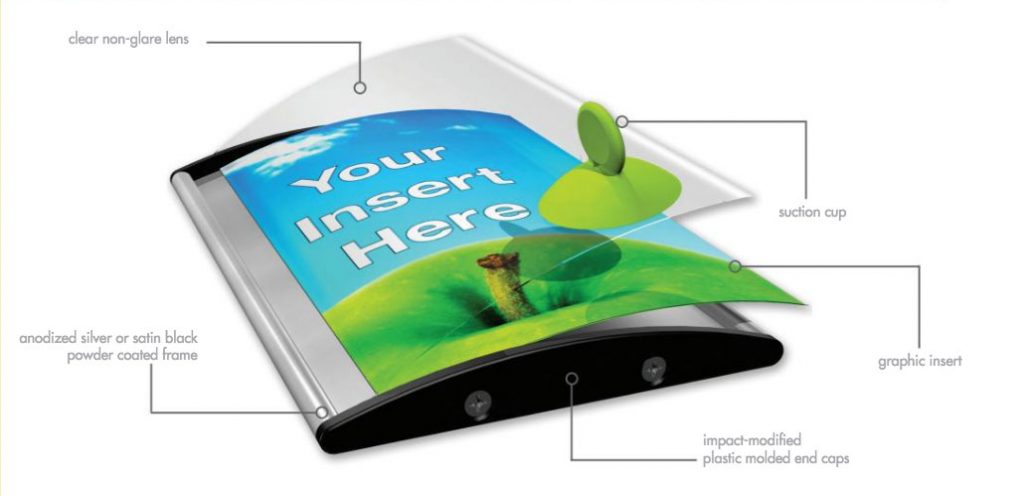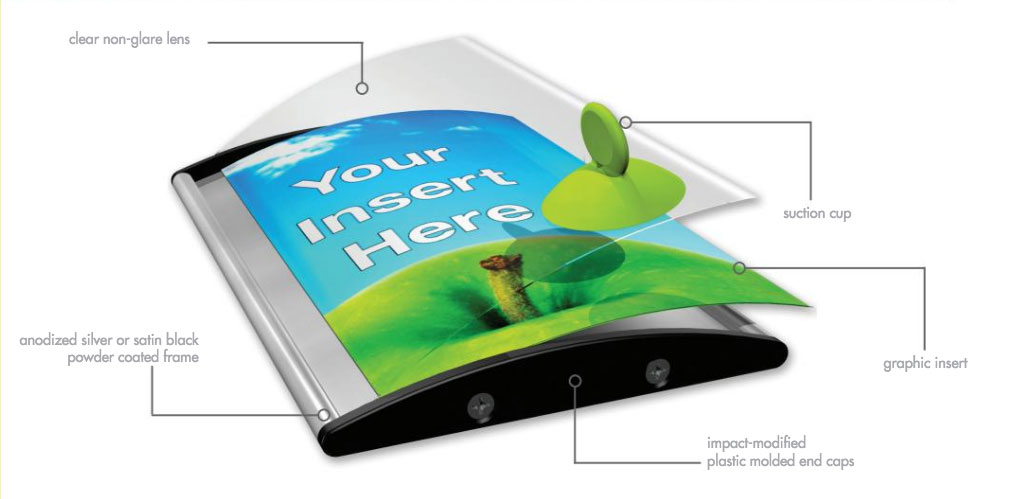 Our Curved Sign Systems are made from Aluminum and the frame extrusions are offered from 4" to 48" wide, at varying heights. The frame colors are silver and powder coated black with the option of gray or black end caps. The frames come standard with a clear, non-glare lens. Tape mounting is included in all Curved Sign Systems and the addition of holes comes with an added cost. Custom lengths are available for the Curved Sign Systems. 
Curved Wall Signs
Our Curved Wall Signs are of high quality, left-to-right curved frames. Each system comes in either silver or powder-coated black. The frames are ADA compatible, tape mounting is included and custom sizes are available. 
Suspended signs are available in single-sided and double-sided. Our suspended signs are available in landscape and portrait orientation. Double-sided flat projecting frames in landscape orientation. You can choose between a round or square-shaped frame. Like our other frames, the suspended sign frames come in black or silver with matching endcaps. The inserts can be replaced individually and the signs come with a non-glare lens that is fully assembled. 
Projecting Triangular Signs
Triangular Signs have the option of either a silver frame or a black frame. The triangular signs have aluminum curved faces with powder-coated black steel end caps and standard mounting plates with keyholes and round holes. The triangular signs are available in eight standard heights with custom lengths available. Triangular Signs allow for ceiling or wall mounting.
The Trappa sign series comes in a variety of forms including LED light. The Trappa Poster Frame is a simple and elegant snap rail solution available in custom sizes. With two custom-length spring-loaded snap rails the Trappa Poster makes for easy assembly. All Trappa Posters come with a non-glare lens and allows you to mount to a wall by inserting the poster and snapping the edges shut. All the rails, backers and lens are cut to size depending on your graphic dimensions and desired length.
The LED Trappa Sign is 1″ thick and can hold up to 50,000-hour bulb life. The light is evenly distributed amongst each sign. The snap frames allow for graphics to be easily interchanged and comes with wall mounting hardware and a 78″ power supply cord.

Our desk signs come in 5 different series.
The DKP series of standing desk frames consists of high quality, powder-coated black anodized silver extruded aluminum body with a black plastic top cap and black steel footplate. Its clear, non-glare lens and suction cup come standard. Custom lengths available. 
The DK series of standing desk frames offer impact-modified plastic molded end caps that double as feet for desk or tabletop use and high quality, extruded aluminum body with anodized silver or satin powder-coated black finish. The clear, non-glare lens comes standard. Custom lengths available. 
The DKS series of standing desk frames features two clear acrylic protective plates that protect your print and brushed silver aluminum support feet for a sharp and modern look. It comes in two standard sizes. 
These sleekly designed CONCAVE desk frames are constructed of high-quality extruded aluminum. The lens slides in and out for easy print replacements. Comes standard in anodized silver or satin powder-coated black finish in two standard sizes. 
The DKD line of desk frames combines a stable domed, brushed silver aluminum holder with an elegant protective acrylic folded pocket providing a modern double-sided option and allows easy graphic changes. Comes in four standard sizes.