Sign Company and Sign Installation
in Saugus, Cambridge, Newton, Lawrence, Newport MA, and Surrounding Areas
Your Complete Sign Company and Union Print Shop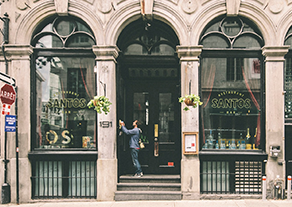 Park Press is a proud union print shop providing a full array of print and installation services. While many clients have been using our print services for years for offset, digital, newspaper and more, Park Press is also a sign company that can fulfill all your sign printing needs for production and sign installation.
Finding a sign company with the answers, pricing, availability and experience for all types of sign installation can be exhausting for any company. Finding one with quality work and excellent service is even harder. Luckily, Park Press is ready to help you find the sign you need regardless of materials. Metal, paint, fabric, vinyl, illuminated and more are all available now from Park Press.
Outdoor Signs
The sign design, production and installation services we offer include all types of indoor and outdoor signs. Outdoor signs require special material and printing to withstand various elements including rain, sun and freezing. We're committed to be your sign company to create the quality signs that will last over time.
Plywood Storefront Sign
Painted Glass Storefront Sign
Punched Metal Signboard/Laser Cut Storefront Sign
Metal Logo and Lettering Storefront Sign
Metal Storefront Sign Board
Neon Signs
Fabric Storefront Sign
Real Estate Marketing Signs
Illuminated Signs
Awning Signs
Commercial Awnings
3D Signs
Sign installation is just as important as the design and production. An outdoor sign could be a major investment and you'll benefit by having the best sign installation too. The experienced team at Park Press will make sure your sign installation has the structural integrity to last for years to come.
Indoor Signs
Indoor business signs are a great way to call attention to your brands, introduce new products and services or for general announcements.
Custom dimensional signs are a great way to add depth and a polished look for your business. Usually done with a company's logo or name, custom dimensional signs can be made from a number of different materials including aluminum, bronze, acrylic, vinyl and more.
Tradeshow display signs can be designed and produced depending on your budget and needs. You may be looking for a one-time tradeshow display sign to be used with a rented display. Or, you may want an illuminated sign that can be used repeatedly and transported easily. Our team can help you design the sign for whatever use you are looking for.