Sign Company for Sign Installation of Outdoor Signs and Indoor Signs
in Saugus, Cambridge, Lowell, Worcester, Boston, Newton, Lawrence, Newport, MA, Brooklyn, NY, and Surrounding Areas
Your business sign is a reflection of your brand. As the most cost-friendly and effective form of advertisement, outdoor signs can entice potential customers and draw them to your business, while indoor signs create the ambiance in your commercial building. Your company sign is often the first encounter that your clients have with your business, but is your sign making a good impression?
At Park Press Printers we have nearly 85 years serving our valued clients in Saugus, Cambridge, Lowell, Worcester, Boston, MA, Brooklyn, NY,​ and surrounding areas with quality indoor and outdoor signs that make a statement. Assisting in all aspects of choosing materials and designs with sign installations, there is no sign company that takes more pride in helping business owners obtain attractive signage at great rates.
Most popular types of business signs:
Channel Letters
Digital Signs
Monument & Pylon Signs
Your Complete Sign Company and Union Print Shop
Park Press is a proud union print shop providing a full array of print and installation services. While many clients have been using our print services for years for offset, digital, newspaper and more, Park Press is also a sign company that can fulfill all your sign printing needs for production and sign installation.
Finding a sign company with the answers, pricing, availability and experience for all types of sign installation can be exhausting for any company. Finding one with quality work and excellent service is even harder. Luckily, Park Press is ready to help you find the sign you need regardless of materials. Metal, paint, fabric, vinyl, illuminated and more are all available now from Park Press.
Sign Installation Services for Outdoor and Indoor Signs
When it comes to purchasing your company sign, one of the most complicated aspects is getting proper sign installation services. Choosing the design and colors can be a fun project, but if your sign company just delivers a 4'x8' sign to your doorstep, you may be at a loss. Sign installations need to be professionally done so that your outdoor or indoor sign can withstand the elements and remain looking fresh and in-tact.
At Park Press Printers our skilled staff has experience in sign installations that are efficient and professional. Whether you're needing your indoor sign or outdoor sign installed we will help you every step of the way to ensure that you receive quality sign installations that are done right the first time around.
Our sign experts have experience installing a variety of different signs including:
Indoor Signs
Outdoor Signs
Banners
Graphics
Digital Signs
Real Estate Advertisements
3D Signs
Awnings
Site Signs
Building Directories
Menu Boards, and more!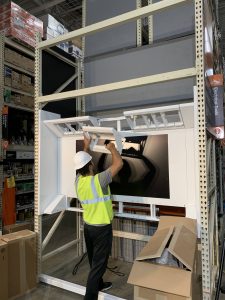 Outdoor Signs
The sign design, production and installation services we offer include all types of indoor and outdoor signs. Outdoor signs require special material and printing to withstand various elements including rain, sun and freezing.
We're committed to be your sign company to create the quality signs that will last over time.
Plywood Storefront Sign
Painted Glass Storefront Sign
Punched Metal Signboard/Laser Cut Storefront Sign
Metal Logo and Lettering Storefront Sign
Metal Storefront Sign Board
Neon Signs
Fabric Storefront Sign
Real Estate Marketing Signs
Illuminated Signs
Awning Signs
Commercial Awnings
3D Signs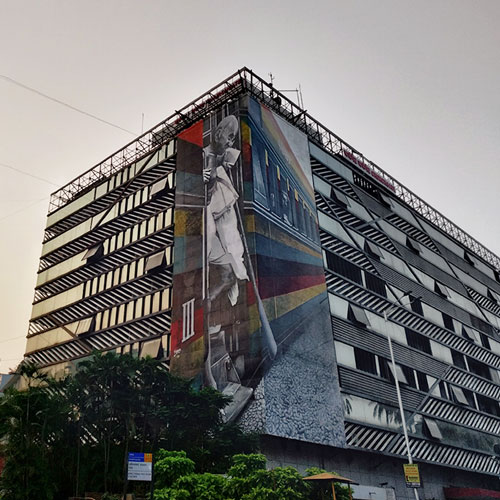 Sign installation is just as important as the design and production. An outdoor sign could be a major investment and you'll benefit by having the best sign installation too. The experienced team at Park Press will make sure your sign installation has the structural integrity to last for years to come.
Indoor Signs
Indoor business signs are a great way to call attention to your brands, introduce new products and services or for general announcements.
Custom dimensional signs are a great way to add depth and a polished look for your business. Usually done with a company's logo or name, custom dimensional signs can be made from a number of different materials including aluminum, bronze, acrylic, vinyl, and more.
Tradeshow display signs can be designed and produced depending on your budget and needs. You may be looking for a one-time tradeshow display sign to be used with a rented display. Or, you may want an illuminated sign that can be used repeatedly and transported easily. Our team can help you design the sign for whatever use you are looking for.
Sign Company in Saugus, Serving Boston, Cambridge, and Surrounding Cities
With a reputation for excellence and a commitment to our craft, business owners in Saugus, Cambridge, Lowell, Worcester, Boston, and surrounding areas turn to Park Press Printers for their outdoor and indoor sign needs. With a wide range of services, there's no job too big or too small for our sign company. At Park Press Printers we offer our clients services including:
Mailing and Packaging- from direct mailing to fulfillment, we help you get the job done no matter how big or small.
Printing- we provide printing solutions for census', newspapers and more. Our sign company takes care of all your printing needs for mass production.
Large Format Printing & Installation- we serve our clients with quality signage for their businesses that cover all aspects of design and sign installation.
Contact us today to learn more about our professional and efficient signage services.