Business Signs, Storefront Signs, Neon Signs, and Wooden Signs in Cambridge, Boston, Lowell, Saugus, Worcester, MA, Brooklyn, NY, and Surrounding Areas
Your business signs are a reflection of your brand. You pay good money for your business location; a well-placed sign can help you optimize your advertising dollars and bring new customers to your door. In fact, the majority of your potential clients pass by your business sign several times before choosing to do business with you. It's absolutely crucial that your business sign makes a good impression that entices new visitors. Your signage may even help your business grow.
At Park Press Printers we have years of experience working with businesses in Saugus, Cambridge, Lowell, Worcester, Boston, and surrounding areas to create quality and attractive signs that suit their business and budget. We offer a variety of business signs including:
Storefront Signs
Neon Signs
Wooden Signs, and more!
Storefront Signs for Businesses
Your storefront signs should be visible both day and night to let your customers know who you are and what you offer. If your storefront sign is poorly made or looking less than professional, it conveys a strong message to passersby that your business is less than professional. Old and outdated storefront signs can lose you business and deter clients from coming to your door.
Our professional sign experts work with you and get to know you and your business personally to provide you with attractive and affordable storefront sign designs that convey professionalism and can grow your clientele. With a wide selection of designs and materials, there is no job too big or too small for Park Press Printers. We offer a variety of different storefront signs including:
Plywood Storefront Signs
Painted Glass Storefront Signs
Laser Cut Storefront Signs
Metal Logo and Lettering Storefront Signs
Metal Storefront Sign Board
Neon Signs
Fabric Storefront Sign
Illuminated Storefront Signs
Commercial Awnings
3D Storefront Signs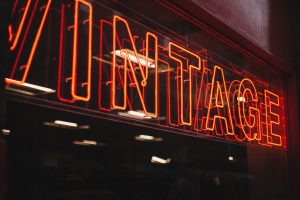 Neon Signs and Wood Signs
If you're looking for a business sign that makes a statement then look no further than neon signs and wooden signs. With vastly different styles and designs, these business signs have one thing in common: they are sure to impress your customers.
Neon signs have become a popular choice for store owners due to their simplistic and modern look. With neon lights that can be seen from great distances, neon signs are ideal for businesses that want to send a clear message without overcrowding advertising space.
For the business owner that's looking for a timeless and classic business sign, wooden signs are a great choice. Wooden signs are versatile and durable, bringing the warmth of nature to your business through advertisement. With the ability for wooden signs to be completely customized, it's no wonder that business owners choose wooden signage for their advertising solution.