Meet The Park Press Front Line Team
Get to know us and see how our individual specialties can help you.
Vision / Mission
At Park Press Printers and Direct Mailing, our focus is on total customer experience. Our team is dedicated to giving our clients value for their money; we offer the best printing and mailing service, adhere to the highest quality, uphold industry's assurance standards, and provide the greatest client satisfaction on every project we tackle, regardless of size or quantity. We are on top of our game and we continually integrate new technology and recent best practices into our methods and processes. Blending new age digital technology with industry-forged technology, we apply our craft and skill and combine this mix into the design and delivery of a standard, high-quality final product. Our focus on-the-job is on; quality, consistency, creative difference and innovative artistry. Our team understands the need for difference and everyone goes all out to make THAT difference. Our corporate culture encourages a strong work ethic, with employees taking pride and ownership in every job they handle. Precise professional attention goes into the quality and detail to guarantee superior outcomes. Our skilled team consists of account reps, designers and press techs. Together, we believe that when we exceed clients expectations, everyone benefits. Meet Our Leadership Team.
Gabriel Farhat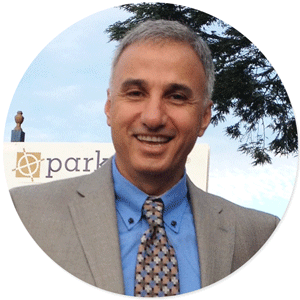 President, Owner
Gabriel took over Park Press Printers in 1993. Through years of hard work, he has transformed the company into a one of a kind print and mail solution that produces exemplary work while staying ahead of the curve. Gabe's personality rings through the halls of our small office and really adds to the deep character of the company. Customers of ours have happily become accustomed to Gabe's lighthearted and yet passionate attitude while working on their projects, which he then tackles with an understanding and intensity that consistently yields winning results time and time again. Originally from an engineering background, his knowledge of all avenues of printing and his ability to think outside the box has made him a leader in the print industry, giving you the most quality and versatile services on the market today. Through the years, Gabe has handpicked an ensemble of knowledgeable and flexible employees. By working one on one with each of them, exchanging valuable ideas and passing wisdom down truly has structured the company in a unique way.
In the small amount of time that Gabe is not working, he is mountain biking, skiing, hiking and spending time with his family.
Bill MacPherson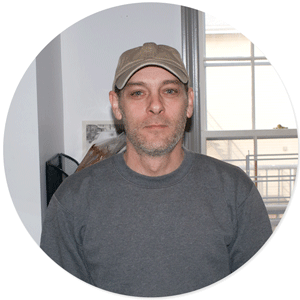 Prepress Manager, Client Services
Billy has a lifetime experience in the print industry and his knowledge of the new and old world versions of the craft has been indispensable over the past 7 years at Park Press. He started prepress while working for his father's business when he was only 13 years old, when negatives were used to make plates, and text was set by hand.As the prepress and technical guru here, Billy takes on a lot of responsibilities such as preflighting and getting your files ready for print, clarifying and guiding you through your order, managing plate output and updating servers and software. Through swift and thorough execution, he keeps the wheels turning at a steady pace here, and seems to always have the right answer to pretty much any tech question you could have.Billy's hobbies and interests include playing blues and rock guitar, as well as sound engineering and recording.
Tania Farhat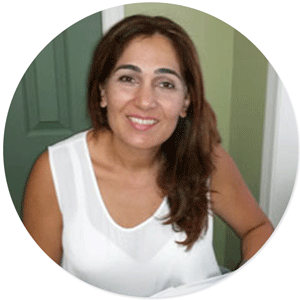 Accounts Payable, Vendor Relations
Tania is a big part of our finance department here at Park Press. She is our book keeper and she keeps things in line in terms of making sure vendors get paid promptly and on time, while keeping our dollars organized and all going to the right place.We and our vendors have great relationships, which is why we can work so in sync with them, creating a better and more flexible service environment for you. There are a lot of moving parts when it comes to printing in terms of supplies – ordering paper and ink on a daily basis, or custom parts for our presses to name just a couple. Tania makes sure all of this goes smoothly.Tania is also the loving wife of Gabe, the president of Park Press, and loves spending time with and taking care of her family.
Brian Ardolino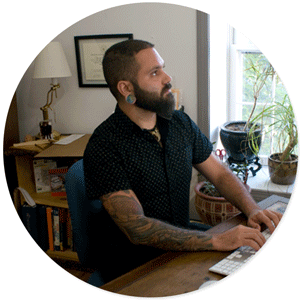 Mailing Specialist, Digital Press Tech, Designer
Besides being a commercial printer, Park Press is also a full service mailhouse, and Brian Ardolino is at its helm. Brian started at the company in 2012 and has been assisting clients and coworkers with all of the necessities of direct mail. Working with state of the art direct mail marketing software and in conjunction with the US Post Office, Brian can walk you through the process – creating or processing your mail list, addressing your mailers and prepping them for the post office, all while getting you the lowest postage rates possible.Brian also mans our digital press. With his keen eye for detail and quality control, he will make sure your digital print jobs turn out perfectly. These skills mixed with a technical prowess for design, and the ability to assist with bindery and other job finishings make him a valuable asset to the team.In his free time, Brian enjoys painting, playing music and experiencing the great outdoors.
Kevin O'Connell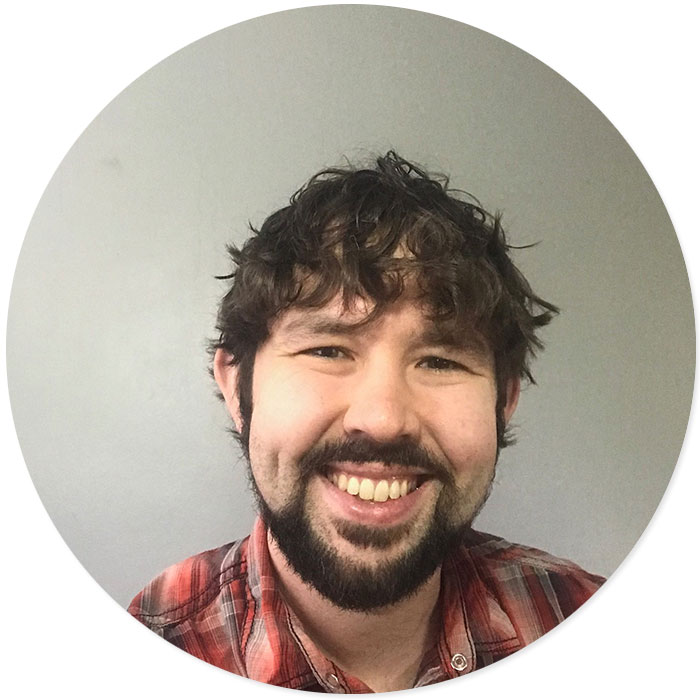 Website Manager, Marketing, Client Services
Kevin  joined Park Press in 2015.  You can find Kevin working with customers, maintaining the website, or  running digital print jobs, binding, or assisting with mailing. When he's not working, Kevin is playing music, making art, enjoying the great outdoors or finding new things to learn.
Omer Kassis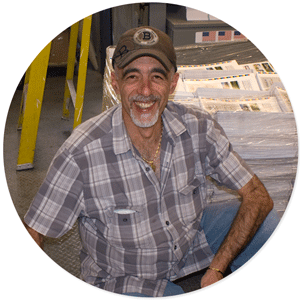 Press Room Manager, Finishing, Shipping
Omer is the man. Always willing to help out with whatever you need, Omer's effort, knowledge and attitude make Park Press a better place to work.Omer mostly works in the press room, and his production skills are unmatched, whether he is cutting paper, binding booklets, die-cutting, letterpress printing, or working the folder. He also is the person who expertly packages up all of our finished work to be shipped to our customers, sometimes even delivering them by hand. He does it all in and out of the press room!Originally from Zalhe in Lebanon, Omer is fluent in Arabic, English and French. He began work at Park Press in 1997 and helped build it from the ground up, to become what it is today. His range of skills have secured superior quality in our work for the past 17+ years.
Tommy Sfeir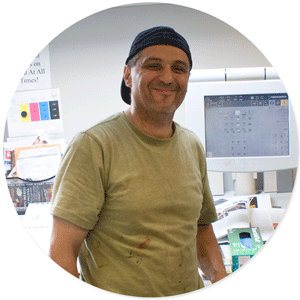 Lead Pressman
One of our most senior team members Tommy's presses are the busiest in the building. Starting as the 1 and 2 color Pressman and working his way up to Lead Pressman, there isn't an offset job that Tommy doesn't see. Working on presses like the Ryobi and Heidelburg for 23 years, Tommy is a true expert in his craft.  Tommy helps bring these jobs to life by meticulously matching exact Pantone ink colors, making small adjustments on the press, and in the end, crafting beautiful offset print work on an array of quality paper stocks. His strong work ethic and attention to detail are one of the many reasons the prints coming out of Park Press are so brilliant. The character of a good offset print heavily depends on the pressman that's printing it, and Tommy consistently shines while turning out Park Press' signature forte of press work. He's not all business, however, off the press he'll be laughing and joking around with everyone at the office, providing some much-needed flavor to the sometimes hectic print shop schedule. His interests include spending time with his family, barbecuing and attending Lebanese-American functions.
Stephanie Maggio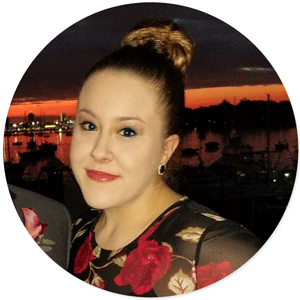 Front Desk, Billing, Accounting
Stephanie, our newest member joined Park Press in October 2017. Stephanie is the first face that most people see as they walk through the Park Press doors and she's also likely the first person you'll be speaking with if you give us a call. In between her friendly greetings, she is working to familiarize herself with all aspects of the shop so that she can deliver an excellent customer experience for both park press clients and vendors. In her free time, Stephanie enjoys spending time with her family, traveling with her fiancé and taking pictures of the places they visit.
Patrick Carney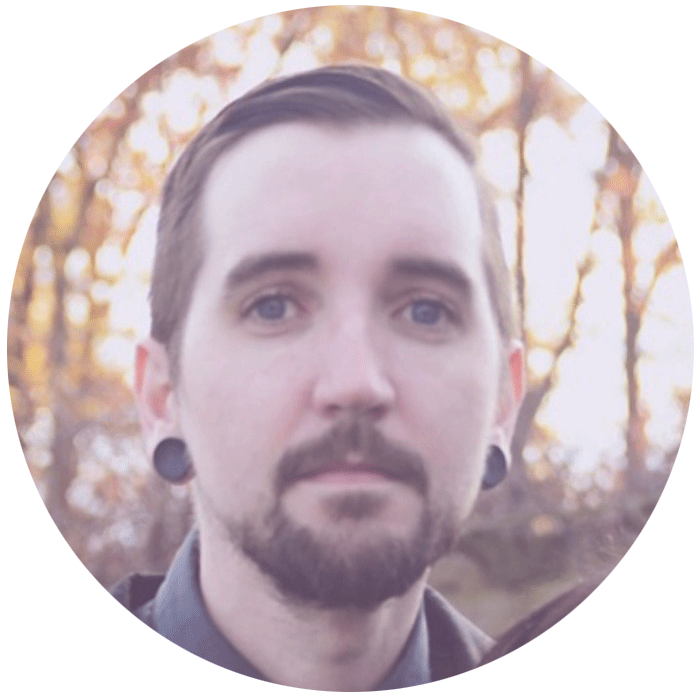 Prepress Manager, Client Services
Patrick joined the Park Press team in 2019. With 13 years of print service experience under his belt, you can find him helping in prepress, production & finishing. Outside of Park Press, Patrick likes to catch live music and new movies. 
Brandon Farhat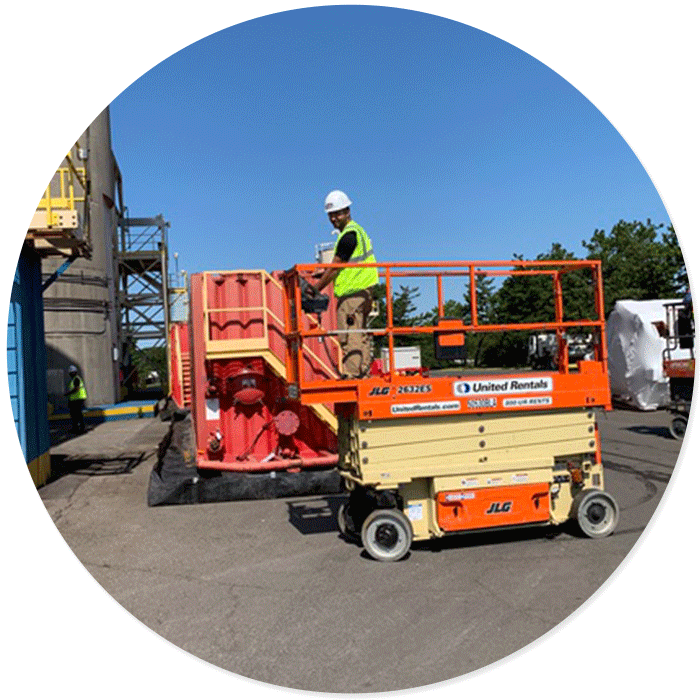 Team Leader, Sign and Displays Installation
Brandon is the eldest son of Gabriel Farhat and also the Installation Team Leader. You will find Brandon heading our install team as they display building graphics, wall graphics, and much more. On his off time, Brandon loves to ski and be outdoors. He especially loves to do these activities with his family. 
Jaret Farhat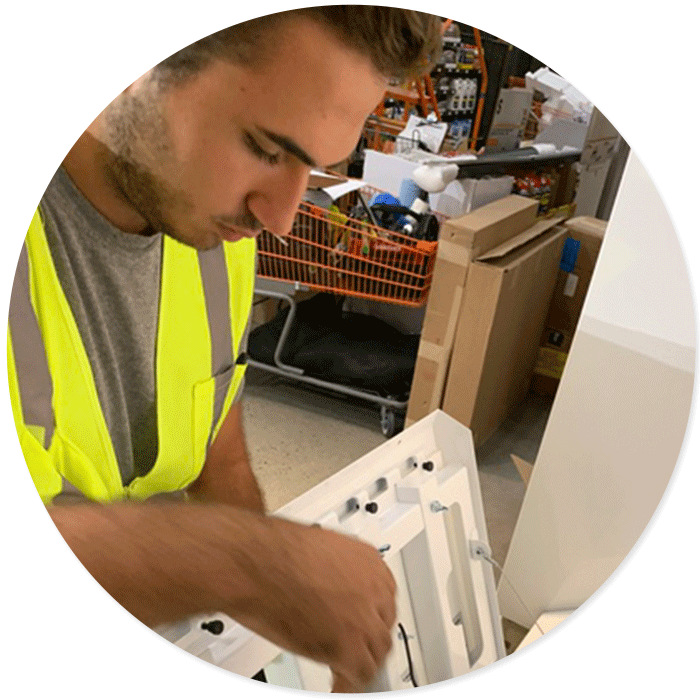 Apprentice, Sign and Displays installation
Jaret is the youngest of the Farhat family. Naturally curious and inherently smart, Jaret picks up new tasks really quick. You will see him helping out around the shop or out on the job during an installation. Like many of the Farhats, Jaret enjoys being in nature. You will find him mountain biking, skiing, or just going for a hike. 
Paul Agersea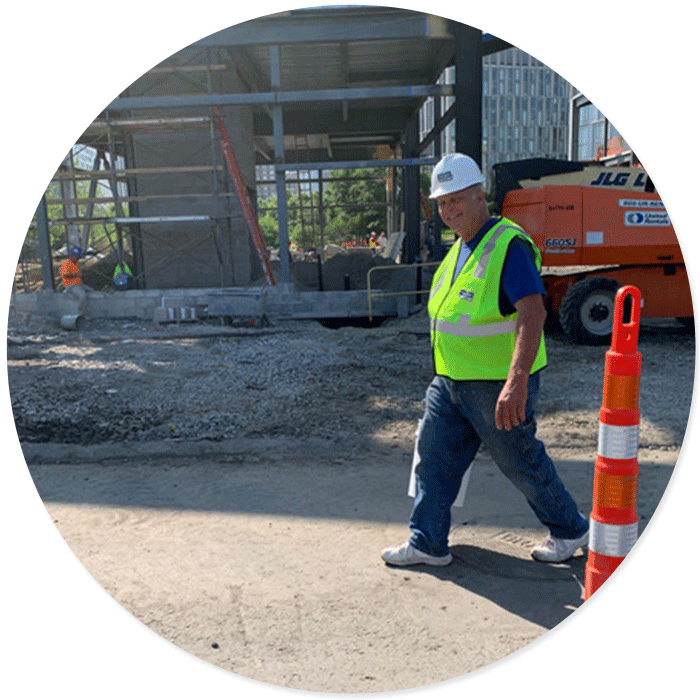 Expert Woodworker/Carpenter; Sign and Displays installation
Paul is the Park Press expert Handyman. When he is not on the job installing large format displays he is in the office or the shop making sure the nuts and bolts are running smoothly. When Paul is off the job he is enjoying time with his family or fishing in New Hampshire.
Dave Barnes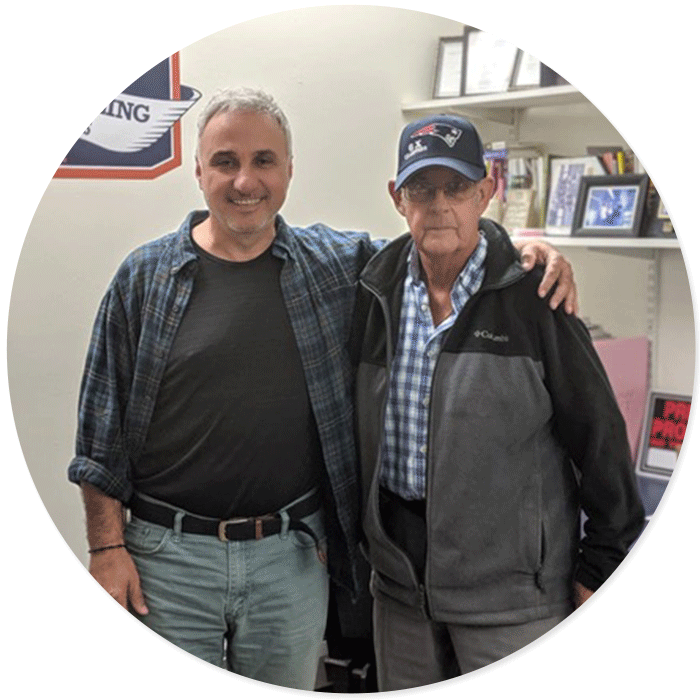 original owners/founders
One of the original owners/founders of Park Press Dave Barnes is pictured here with Gabe the current owner. Dave and Gabe are still very close and you may see Dave around the office admiring how far Park Press has come. 
Nikkie Corzo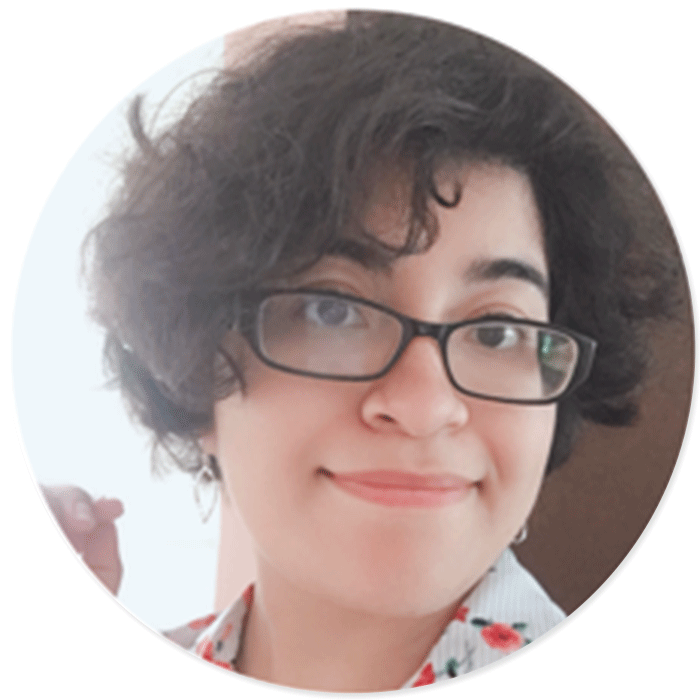 Prepress Assistant, Designer
The newest member of our team, Nikkie jumped right to action. At Park Press Nikkie is either running the digital press, working with clients, or preflighting your artwork. You can usually find Nikkie exploring the streets of Boston, practicing her inking skills in her sketchbook, or traveling to conventions across the states.
Autumn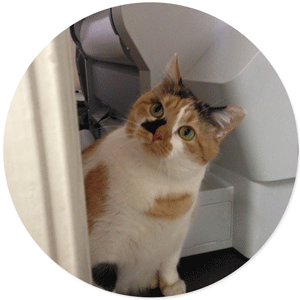 Cat
You may be greeted by Autumn when you come in for a visit!  Autumn the cat is our beloved mascot and can be found sleeping, greeting clients, or knocking papers off of the many desks we have here. She is super friendly and would love to meet you.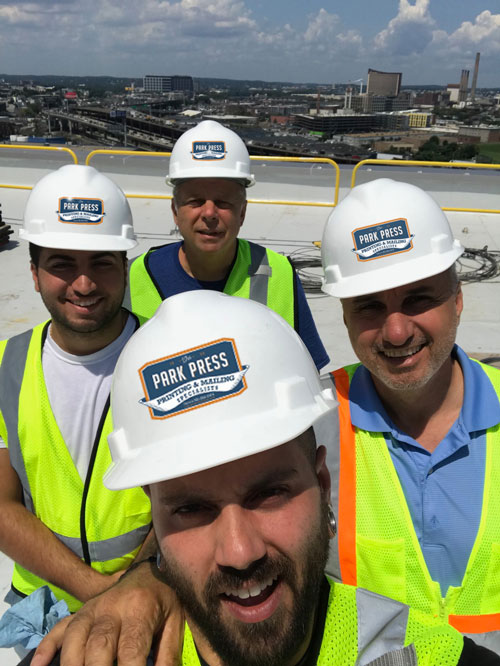 History
Park Press is a company built on history. Founded in 1934, the historic building that is home to Park Press Printers was erected in 1836 as a church that was converted to a general store and later became the Saugus Center Post Office. From its humble early beginnings as a letterpress shop in the basement of a home on Park street (hence our name), Park Press Printers progressed and expanded to include direct mail and a full range of commercial print services to meet all printing and marketing needs. Today, we are a fully licensed and fully operational Union Printing and Direct Mail Company located just outside Boston in the Saugus, Massachusetts.
More Value And Bigger Cost Savings
Park Press is a Value-Plus, Savings-Plus company. We always add value to our clients across board and every Park Press client knows that we are Dependable, Affordable and We Make Life Easier! Our technologically sophisticated and multi-faceted printing and mailing company is fitted with resources that deliver more value at a faster rate and for less money. Our clients see us as the 'go-to' company. You will too. We guarantee it.
Target Clients
Our target clients are ones we can build mutually benefitting relationships with. At Park Press, anyone and everyone is welcome to join our growing family. As an all-in-one shop, we cater to virtually any printing need and as the business-client relationship grows, clients realize that we go all out to ensure that their happiness comes first.
Notable Clients
We are not a run-of-the-mill Printing and Direct mail company. We service over 3,200 active clients. Our list of notable clients includes:
Museum of Science
Dana Farber
Smith & Wollensky
Burtons Grill
Boston Center for The Arts
Mapfre Insurance
Marian Court College
Tufts Medical Center
Hunt Community
Boston Intercontinental Hotel
The Salvation Army
MIT Cancer Center
Town of Saugus
New England Biolabs
Grant Communications
Innovative Resource Grouper