Metal Signs and Sign Design in Saugus, Lowell, Worcester, Boston, Cambridge, MA, Brooklyn, NY, and Surrounding Areas
You may want to have some custom metal signs in your area of the parking lot to help ensure your customers have a place to park. Or maybe you want a sleek, modern metal sign made of your business name and logo to place on the outside of the building you are in. No matter the location, having a sharp-looking metal sign sets your business apart and makes a statement. Park Press Printers will work with you to design a sign for your Saugus, Lowell, Worcester, Boston, Cambridge, MA, or Brooklyn, NY business that represents your business in a unique way.
Custom Metal Signs
As soon as you mention that something is custom, dollar signs start to flood the mind. But that is no longer the truth these days. The metal cutting machinery today has built-in flexibility so that doing a custom sign is barely more expensive than a standard sign. This means that you can get exactly what you want for your business without breaking the bank.
And custom signs don't just mean custom cutting. Sure, that is always part of the program, but what about custom colors? You probably have a particular color that you use with your business name and logo, and Park Press Printers can incorporate your business's colors into your custom metal sign.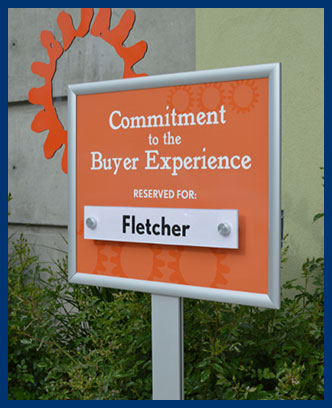 Metal Sign Design and Installation
Why do businesses choose to use metal for their signs? Several reasons, which hit both the design aspect as well as the installation aspect. First up is the durability aspect of metal signs. Whether they are installed indoors or outdoors, metal signs can stand up to whatever might be thrown at them, figuratively and sometimes literally. Metal is a durable material so it makes sense you would use that for a sign that lasts with minimal maintenance.
Metal signs also work with nearly any décor. Maybe you have a nice brick exterior on your building, a metal sign looks great against the brick. Maybe you have a sheet metal exterior, and your colored metal business sign complements the building well. Indoors metal signs work just as well to match that space as well.
Metal signs have been used for decades in Brooklyn, NY, Worcester, Boston, Cambridge, Saugus, Lowell, MA, and the surrounding areas because they last and work well with many different situations. You could even backlight your exterior metal sign to give it a nice offset glow. If you can dream it, Park Press Printers can help make it a reality.