A-Frame Custom Signs in Saugus, Worcester, Cambridge, Boston, Lowell, MA, Brooklyn, NY, and Surrounding Areas
Picture this: you're walking downtown Boston, Worcester, or Cambridge and you round a corner and see a nice A-frame sign on the sidewalk. The sign is advertising a lunch special today of soup and a sandwich. You take a glance at the time on your phone and realize that you would have time for some lunch, plus you are hungry. You alter your course and head inside for a tasty lunch.
That's the power of the A-frame sign in Saugus, Lowell, MA, Brooklyn, NY, and the surrounding areas. You reach people on a personal level by being where they are. Foot traffic is an important aspect for many businesses, and you want to convert some of that foot traffic into business. Park Press Printers can help make an A-frame sign for your business to capture people's attention and turn them into customers.
Custom A-Frame Signs
The ability to have custom messages used on your A-frame sign is what really makes a difference. But even the materials that the sign is made out of can make a difference and help you stand out from the rest. These days you'll regularly see the PVC A-frame signs on sidewalks, but when you see a wooden A-frame sign, it captures your attention because it's different. What if you had a metal A-frame sign? Yeah, that would really stand out because it's not what people expect. And that's part of why you would want a custom A-frame sign, to stand out and capture people's attention.
Don't forget that the sign area itself where you advertise can be custom as well. Maybe you want a chalkboard area here for ease of changing the message. Or you do a metal insert where you can use magnetic letters to spell out whatever message you want to display. Make your custom A-frame sign different from the rest without a crazy cost.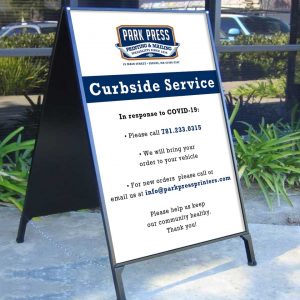 A-Frame Signs for Businesses
Don't think that A-frame signs are just good for business store front signs. If you attend a trade show, sometimes you can put an A-frame sign at the edge of your booth to help draw people to you. Inside of a mall, businesses can put out A-frame signs like they were downtown to advertise a special offer to attract customers. These signs could also be used as quick menu boards for food trucks, promoting your booth at outdoor events, as well as directional signs for ad hoc parking situations. A-frame signs have a wide variety of uses for businesses and Park Press Printers can make a custom one just for you.