Vinyl Lettering Sign Design and Installation in Saugus, Worcester, Lowell, Cambridge, Boston, MA, Brooklyn, NY, and Surrounding Areas
Your business windows could be advertising for you. How? With vinyl lettering in Saugus, Worcester, Lowell, Cambridge, Boston, MA, Brooklyn, NY, and the surrounding areas! The windows that face the street and sidewalk, while bringing in the sunlight, can also advertise for you. Maybe you have a big sale going on that you want to remind people of, or you want to let people know they can also order your items on your website, vinyl lettering is a great option to use on your windows and entrance doors. And you can have any number of fonts for your lettering as well, so you can customize your letters and your message to best match your company's brand.
Vinyl Sign Design, Banners, and Window Clings
When you are looking for different marketing ideas, Park Press Printers offers a number of options in sign design that are low cost yet high impact. For example, having a custom banner made to advertise a sale is a great marketing piece, and it can be used multiple times. Or you might use the banner to advertise a special price or item. Inside of your business, you could use vinyl floor graphics to help direct traffic or to remind people of a special offer. Rather than spend a lot of money on 3-D wall signs or other wall treatments, having vinyl wall graphics can provide a cost-effective way to provide a lot of information quickly, such as a menu.
If you can imagine it, odds are that Park Press Printers can make it in a sign, banner, or window cling. Indoor or outdoor use, these items provide a cost-effective option for your marketing efforts.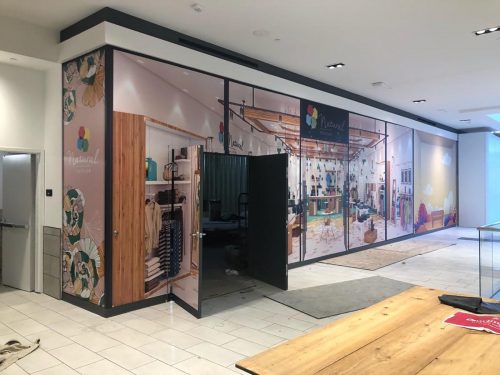 Vinyl Lettering Sign Installation for Vehicles
Have you considered using your company vehicles as a means to advertise your company? There are a number of options that you have, and if you have a vehicle with several side windows or a lot of available space of flat surfaces, you can readily put a number of pieces of information about your business on the vehicle.
For example, on the tailgate of your pickup is a great place to put information about your business. Likewise on the back window, side windows, sidewalls of a van, and the doors as well. The vinyl options include multiple colors, shapes, and more. You will be surprised at how often someone will tell you that they saw your vehicle around Boston, Brooklyn, or Cambridge and that caused them to contact you.