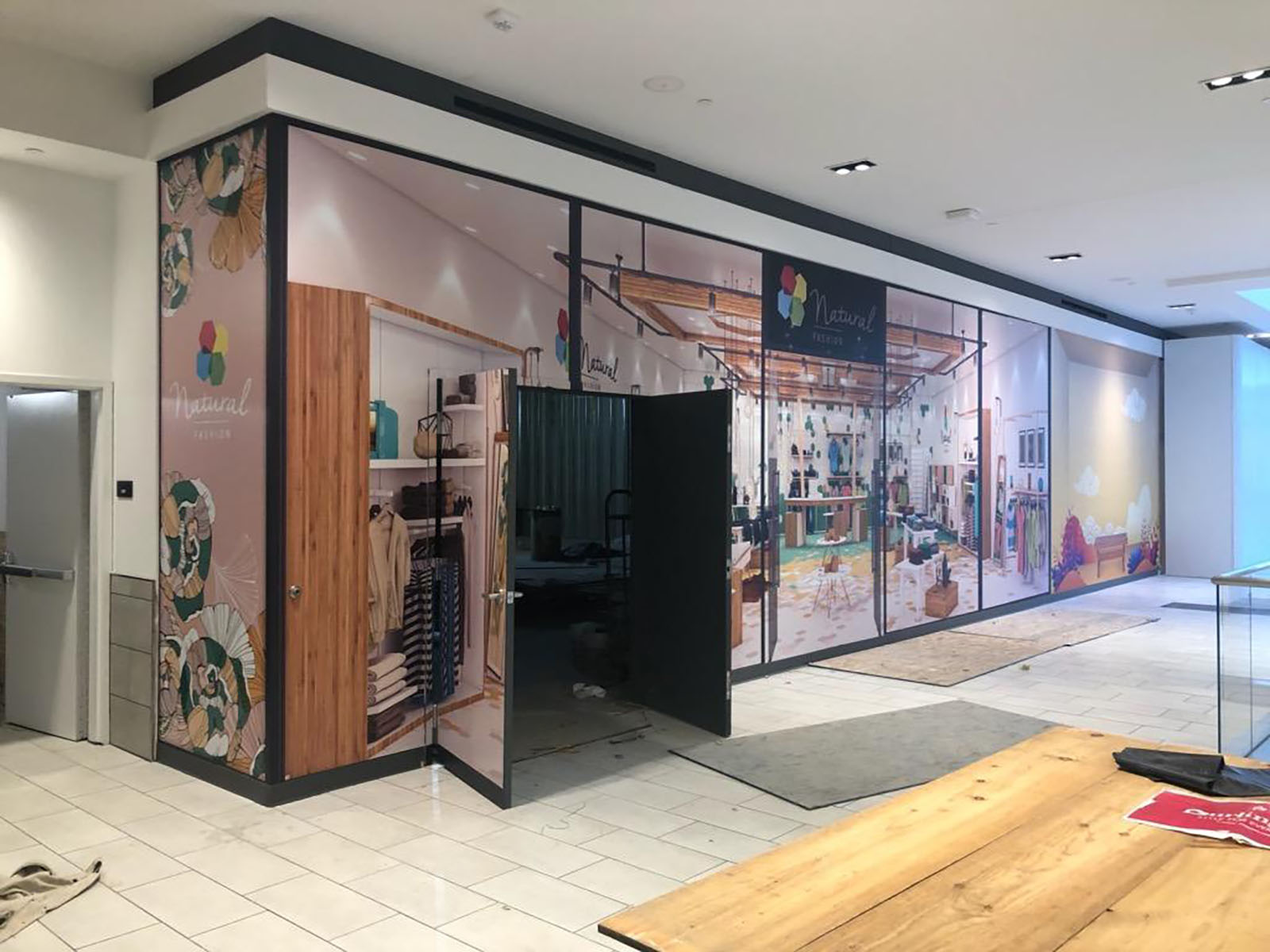 Adhesive Graphics
Adhesive graphics are the ideal way to enhance your customer experience. Choose from wallpaper, wall mounts, window mounts, floor graphics, and much more. These full color crisp designs are sure to wow anyone who sees them!
Window Clings
Window Clings can be applied to the same types of surfaces, only these products rely on static electricity in order to "cling" to a surface. Printed on weather-resistant glossy material that can be used both indoors and outdoors, this product works well as POP signage on flat vehicle windows, retail store windows, etc.
See Through Vinyl
Ideal for any number of window display applications, 6mil white flexible vinyl (See-Through Window Vinyl and See-Through Window Vinyl with Laminate) have removable acrylic adhesive backs, allowing them to adhere easily to most clean glass or glass-like surfaces.
Adhesive Vinyl Floor Graphic
Transform high-traffic floor areas into attention-grabbing ad space  Ideal for interior application on most dry, clean and untextured floors.
Adhesive Vinyl Wall Graphics
Produced with low-tack adhesive backing on 8mil vinyl, adhesive vinyl wall graphics are ideal for use on almost all surfaces; office or bedroom walls, laptops, and glass windows. Is re-positional many times over.
Decal Information•
1, 2 or 3 ink color printing in more of our popular sizes!
Most shapes and sizes are available.
Decals are printed with lightfast inks for extra fade resistance. UV varnish is included in the decal's base price.
Available on either White Vinyl-Adhesive Back or Durable Clear Film material.
Standard ink colors are available as well as exact PMS color match printing. Varnish is available and counts as an ink color.
Our expectation is that we will receive "Usable Artwork." If extensive artwork manipulation is required, additional charges may apply. Usable Artwork is defined as: crisp black and white art; no photocopies or faxes. Leave a 1/8" boarder from edge of label and/or inside borders. Multi-colored orders require color separated art with color placement specifically denoted. Contact us for details or design inquiries.
Made in U.S.A.
Turnaround:
Delivery times are subject to approval by production department. Turnaround time starts the day of the proof approval, before 3 PM EST. If an order is placed after 3 PM EST, turnaround time starts the next day.
Orders will be shipped at the end of your specified turnaround time.
Our customers are saying a lot of really great things about us! See what they are saying, or write a review.
Testimonials

I appreciate this so much I was a little late on notifying you and sending in the PDF and ones again your company came through and produced an amazing paper and a speedy delivery we're all all so grateful!
Sibley Dickinson
Noble and Greenough School

That's fantastic! You guys have really impressed me with these orders. I don't think I've worked with a print shop this flexible and agile the whole time I've been in art production. Thanks for the hard work! I look forward to seeing the result!
Nathan Cheatham
Cognitive Scale
Gabe, Brian,
I just want to say thank you for the amazing job you did with the postcards. They are by far the best-looking piece of campaign literature that my dad's put out since his first campaign in 2003. He's so pleased and we are both eagerly awaiting them to hit mailboxes throughout the ward.
As always, great work!
Beth

Brian, Bill and Gab, 
Just want to send you guys a quick note to thank you for the superb service you have extended to all of us at Beyond Walls over the past few weeks. I recognize that you guys put many of our orders on a rush in order to accommodate our short project timeline - thank you! Not only were all the print materials of superb quality - you guys went the extra mile with some minor design work and always delivered it with a smile. Undoubtedly the best customer service we've experienced with a print shop! Again, we are so grateful for your help, professional service and top notch product quality. We look forward to working with all of you in the future. 
----on behalf of the Beyond Walls Team, thank you!
Pedro Soto
Beyond Walls
Dear Gabriel,
Thank you very much Gabriel for all the work you put in to get the job done by 7:30. They look great. I look forward to working with you in the future. 
Andres Perez
The Revere
Kevin, thank you for the help with my campaign. I will refer as many ppl to as I can. Are you on Facebook? cause I would like to give you a  great review as well as add some pics. Have a great weekend.
Bryan Snow
Committee to Elect Bryan Snow