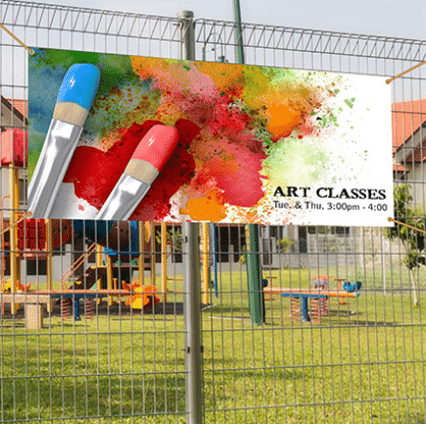 Banners
What kind of signage is equally at home in small towns or big cities? On a quaint tree-lined street or busy thoroughfare? Inside a school or office? It may well be the vinyl banner. The reasons are many, including eye-appeal, low-cost, durability, and ease of installation. Park Press creates vinyl signs and fabric banners for every need: holiday events, art shows, school concerts, voting announcements, space for lease, new business product launches…even Happy Birthday banners–the possibilities are endless.
Banners can stretch across streets, hang from lampposts, attach to buildings, or trail an airplane in the sky. Massachusetts North Shore and Boston area clients can look to Park Press to design and install banners of any kind. We offer quick turn-around and can often accommodate last-minute requests. Our banners can be any shape or size and feature photos, logos, illustrations or text.
Banners to be hung outside are made with extra-tough material, feature sturdy hems and reinforced corners, and come complete with grommets and D-rings that make attachment a snap. Next time you want to celebrate… or just get the word out, consider a banner from Park Press.
Sizes and Information
Templates
Banner Information•
vinyl banner graphics are printed in high resolution full color. These banners are nylon webbing reinforced for ultimate durability and can stand up to the outdoors. Grommets and hemming are included in the pricing of this material. Other options include wind slits, and pole pockets, D-rings, heavy duty grommets, or many other options. Speak with a representative to find out more. We can create 2-sided banners by hemming 2 banners together, back-to-back. Pricing is based on square foot. Type the width and height of your artwork into the calculator below to get a quote. Roll width sizes come in 38″, 54″ and 64″. Prints can be virtually any length. Waste will be applied to the price for unused space. Call for pricing on wider pieces. Discounted pricing is available for larger quantities. Speak with a customer service representative for details.
Turnaround:

Delivery times are subject to approval by production department. Turnaround time starts the day of the proof approval, before 3 PM EST. If an order is placed after 3 PM EST, turnaround time starts the next day.
Orders will be shipped at the end of your specified turnaround time.

Artwork:

Artwork can be uploaded as a PDF, PSD, EPS or AI file at the end of the order. We also have a talented staff of designers ready to help you with or completely create your design.

Proofing:

Free PDF proofs are standard for every job. We also offer hard-copy proofs at additional costs.
Color matching services are available. Speak with a customer representative to learn more.
Our customers are saying a lot of really great things about us! See what they are saying, or write a review.
Testimonials

I appreciate this so much I was a little late on notifying you and sending in the PDF and ones again your company came through and produced an amazing paper and a speedy delivery we're all all so grateful!
Sibley Dickinson
Noble and Greenough School

That's fantastic! You guys have really impressed me with these orders. I don't think I've worked with a print shop this flexible and agile the whole time I've been in art production. Thanks for the hard work! I look forward to seeing the result!
Nathan Cheatham
Cognitive Scale
Gabe, Brian,
I just want to say thank you for the amazing job you did with the postcards. They are by far the best-looking piece of campaign literature that my dad's put out since his first campaign in 2003. He's so pleased and we are both eagerly awaiting them to hit mailboxes throughout the ward.
As always, great work!
Beth

Brian, Bill and Gab, 
Just want to send you guys a quick note to thank you for the superb service you have extended to all of us at Beyond Walls over the past few weeks. I recognize that you guys put many of our orders on a rush in order to accommodate our short project timeline - thank you! Not only were all the print materials of superb quality - you guys went the extra mile with some minor design work and always delivered it with a smile. Undoubtedly the best customer service we've experienced with a print shop! Again, we are so grateful for your help, professional service and top notch product quality. We look forward to working with all of you in the future. 
----on behalf of the Beyond Walls Team, thank you!
Pedro Soto
Beyond Walls
Dear Gabriel,
Thank you very much Gabriel for all the work you put in to get the job done by 7:30. They look great. I look forward to working with you in the future. 
Andres Perez
The Revere
Kevin, thank you for the help with my campaign. I will refer as many ppl to as I can. Are you on Facebook? cause I would like to give you a  great review as well as add some pics. Have a great weekend.
Bryan Snow
Committee to Elect Bryan Snow