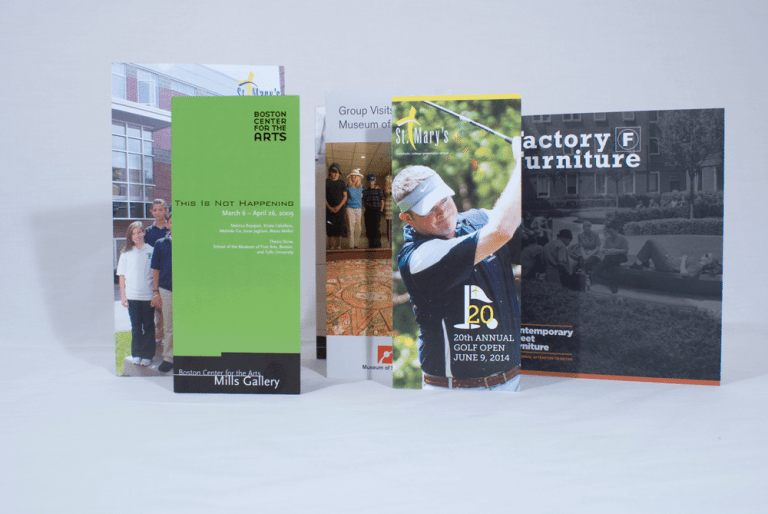 Brochures
Brochures are a favored way to reach your audience because they combine important information and great graphics, photos, illustrations, maps or charts in an appealing easy-to-follow format. These handy publications are lightweight and convenient. They boost name recognition…and they "hang around" long after other forms of promotion have been seen and forgotten. While it's true that many people read about products and services online, being able to access a printed brochure enhances recall and shareability with friends.
Park Press offers custom brochure printing and design services, using your material or our own special templates. Boston, North Shore and greater Massachusetts customers will appreciate our affordably priced, attractive options. We also provide union printing services by providing the union bug or label on appropriate brochures. Attorneys, politicians and union-friendly companies may benefit from this service.
The Park Press team can assist clients with copywriting as well as design and layout. Do you want your brochure to sound authoritative or conversational, factual or alluring? You may know what you want to say but need help putting your thoughts into words. Just let us know your needs and we will help you craft the language.
In addition to the text, there are a number of factors to take into consideration, such as paper quality, number of pages and desired appearance. A Park Press associate can show you a variety of paper and print options and work within your budget to produce a brochure worth hanging on to. Paper can range from the perfectly smooth to the artfully textured. Your choice depends on your audience. Medical brochures are often printed on smooth glossy paper that allows for crisp images and excellent readability. Fine art brochures might feature textured paper to give the look of paintings and the feel of luxury. Seasonal brochures, handbills or those created to highlight a specific event may not need to be as durable as brochures with long-term appeal, such as school catalogs, travel magazines, product overviews and the like.
Sizes and Information
Templates
Brochure Information•
Print on 100 lb. Text (Thin Paper Stock), 100 lb. Cover (Thicker Paper Stock) or their equivalent in Uncoated Stocks.
We offer many different styles of folding including:
– Single Fold
– Tri Fold
– Double Parallel Fold
– Accordion Fold
– French Fold
– Roll Fold
– Gate Fold
– Double Gate Fold
Typesetting and design services available
Exact color matching for PMS inks.
1, 2 or Full color printing.
Our customers are saying a lot of really great things about us! See what they are saying, or write a review.
Testimonials

I appreciate this so much I was a little late on notifying you and sending in the PDF and ones again your company came through and produced an amazing paper and a speedy delivery we're all all so grateful!
Sibley Dickinson
Noble and Greenough School

That's fantastic! You guys have really impressed me with these orders. I don't think I've worked with a print shop this flexible and agile the whole time I've been in art production. Thanks for the hard work! I look forward to seeing the result!
Nathan Cheatham
Cognitive Scale
Gabe, Brian,
I just want to say thank you for the amazing job you did with the postcards. They are by far the best-looking piece of campaign literature that my dad's put out since his first campaign in 2003. He's so pleased and we are both eagerly awaiting them to hit mailboxes throughout the ward.
As always, great work!
Beth

Brian, Bill and Gab, 
Just want to send you guys a quick note to thank you for the superb service you have extended to all of us at Beyond Walls over the past few weeks. I recognize that you guys put many of our orders on a rush in order to accommodate our short project timeline - thank you! Not only were all the print materials of superb quality - you guys went the extra mile with some minor design work and always delivered it with a smile. Undoubtedly the best customer service we've experienced with a print shop! Again, we are so grateful for your help, professional service and top notch product quality. We look forward to working with all of you in the future. 
----on behalf of the Beyond Walls Team, thank you!
Pedro Soto
Beyond Walls
Dear Gabriel,
Thank you very much Gabriel for all the work you put in to get the job done by 7:30. They look great. I look forward to working with you in the future. 
Andres Perez
The Revere
Kevin, thank you for the help with my campaign. I will refer as many ppl to as I can. Are you on Facebook? cause I would like to give you a  great review as well as add some pics. Have a great weekend.
Bryan Snow
Committee to Elect Bryan Snow