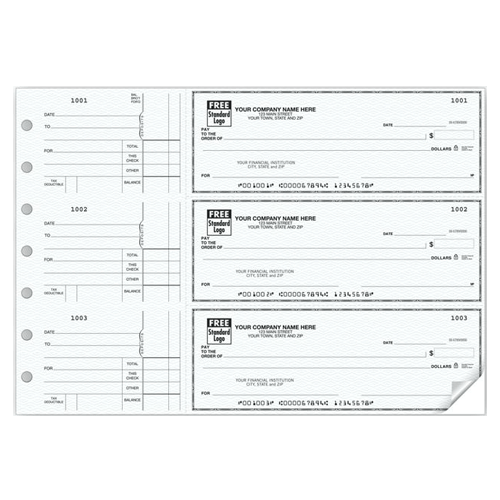 Checks
Checks from Park Press are high security, and defend against fraudulent behavior.
Trusted by thousands of  financial institutions nationwide, our High Security Laser Checks offer the highest level of check security making it the most secure check available.
Our laser checks are ideal for single checking account businesses. The checks are compatible with Dac Easy, Sage Software & many others.
Security Features:
Anti-Copy Technology- Created with technology to prevent most copiers from creating a usable copy
Safety Hologram- A hot stamped, multi-dimensional, foil seal that can not be photocopied and includes 7 security features.
Visible Security Features- Visible embedded fibers, chemical-wash detection, heat-sensitive ink, and true watermark.
Built-in Security- These checks are equipped with microprint borders, erasure protection, chemically sensitive paper, invisible fluorescent fibers, security screen & warning box.
More Check Information•
Numbering Systems: Choice of consecutive (face up) or reverse (face down) numbering, depending on your printer setup.
Printer compatible: Sheet format fits all standard laser & inkjet printers; multi-part options include up to 2 color-coded duplicates on separate sheets.
Free Personalization: Include your business imprint plus choice of standard check color, typestyle & standard business logo. Additional customization also available at an additional charge.
Proprietary screening: All orders go through proprietary screening to prevent unauthorized orders.
Our customers are saying a lot of really great things about us! See what they are saying, or write a review.
Testimonials

I appreciate this so much I was a little late on notifying you and sending in the PDF and ones again your company came through and produced an amazing paper and a speedy delivery we're all all so grateful!
Sibley Dickinson
Noble and Greenough School

That's fantastic! You guys have really impressed me with these orders. I don't think I've worked with a print shop this flexible and agile the whole time I've been in art production. Thanks for the hard work! I look forward to seeing the result!
Nathan Cheatham
Cognitive Scale
Gabe, Brian,
I just want to say thank you for the amazing job you did with the postcards. They are by far the best-looking piece of campaign literature that my dad's put out since his first campaign in 2003. He's so pleased and we are both eagerly awaiting them to hit mailboxes throughout the ward.
As always, great work!
Beth

Brian, Bill and Gab, 
Just want to send you guys a quick note to thank you for the superb service you have extended to all of us at Beyond Walls over the past few weeks. I recognize that you guys put many of our orders on a rush in order to accommodate our short project timeline - thank you! Not only were all the print materials of superb quality - you guys went the extra mile with some minor design work and always delivered it with a smile. Undoubtedly the best customer service we've experienced with a print shop! Again, we are so grateful for your help, professional service and top notch product quality. We look forward to working with all of you in the future. 
----on behalf of the Beyond Walls Team, thank you!
Pedro Soto
Beyond Walls
Dear Gabriel,
Thank you very much Gabriel for all the work you put in to get the job done by 7:30. They look great. I look forward to working with you in the future. 
Andres Perez
The Revere
Kevin, thank you for the help with my campaign. I will refer as many ppl to as I can. Are you on Facebook? cause I would like to give you a  great review as well as add some pics. Have a great weekend.
Bryan Snow
Committee to Elect Bryan Snow