Let's say that you have decided to start your own business in Brooklyn, and you are choosing to do lawn care. You have a truck, a trailer, and several other pieces of equipment. You are wondering what you can do for marketing that will last a long time and will be seen by hundreds, if not thousands, of people each day. You have a lot of options, but most of them are prohibitively expensive for a small business like yours. If you were to speak with the team at Park Press Printers, they would likely suggest turning your vehicle into a moving billboard with vehicle graphics.
Vehicle Graphics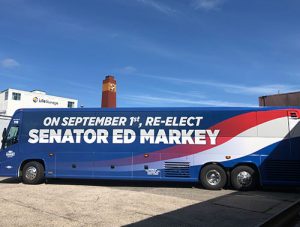 Vehicle graphics are a great way to communicate a lot of important information quickly and easily. They also last a long time, making them a great investment for marketing dollars. Using the small business from above, the lawn care business could have vehicle graphics put on the doors of the truck that provide the name of the business, a phone number to call, perhaps a website address or email address, and some other information about the services the business provides. But vehicle graphics aren't just for the doors, you can also have them done for glass areas as well. The back glass of the truck cab is a large piece of real estate that can be used to advertise the business. Perhaps you would put your website address on your back window, or a name and phone number. Park Press Printers can help you decide on what surfaces you should add graphics to, as well as the size that will fit.
Car Graphics
Car graphics aren't just for large trucks either. You may have a small fleet of cars that are used by a variety of employees. These vehicles can still advertise your business with graphics of their own. Both the doors and windows can be utilized to let people know what your business is. Virtually any vehicle can benefit from having car graphics installed. These can also be a sign for people that you are meant to be where you are, such as on a construction site. Inspectors that show up benefit from having their vehicle contain car graphics so that people know they should be there for their job.
No matter what business you have in Brooklyn, it is worth having a conversation with Park Press Printers about vehicle graphics for your vehicle. From insurance companies to construction companies, delivery businesses and many more, vehicle graphics set your business apart and remind current and potential customers about your business.