Graphic Installation and Banner Installation in Brooklyn, NY
If you have a retail space in Brooklyn, you know that having informative and eye-catching graphics and banners helps to get people shopping. Along with having these great graphics and banners designed and made by Park Press Printers, they can also do graphic installation and banner installation. These professional installations will ensure that your investment in the graphics and banners for your business aren't ruined by poor installations. Bad banner installation or graphic installation will reflect poorly on your business and negate the positive investment made in them.
Please note that our Brooklyn location is a sales office and no production is available onsite. We are still happy to provide you with our services, but please be aware that all production is completed from our Saugus location.
Large Format Printing and Large Format Graphics Installation in Brooklyn, NY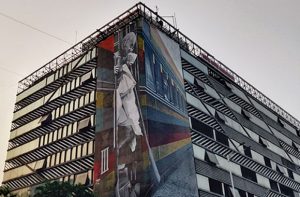 While most businesses are thinking of smaller items for printing and graphics, sometimes it is better to go larger. Just how large can you go in Brooklyn? It is possible to get as large as building wraps, which are like vehicle wraps only much large and hanging off the sides of buildings. You might see large corporations having these large-format printings done and having Park Press Printers do large format graphic installations as well. While it doesn't need to be as large as a building, large format printing can include billboards, large signs on top of buildings, even large banners that are hung in auditoriums and other large buildings. Large format graphics installation can include floor graphics that are done for advertising in sports venues, wall graphics for interior design, and other situations.
Vinyl Graphic Installers, Graphic Installers in Brooklyn, NY
There are many different applications where having vinyl graphics is the preferred option. They can tie into a season, a special sale you might be having, or just a way to convey information to your customers on a daily basis. Or you might want some specific graphics added to your entrance doors or windows. No matter the kind of graphics you need, having experienced graphic installers will ensure that your investment won't be ruined. Especially when installing larger vinyl graphics on floors and walls, having vinyl graphic installers do the job will ensure that the graphics have adhered correctly and they will take out any bubbles or other imperfections that would cause the graphic to prematurely fail.
What is now Brooklyn today left Dutch hands after the final English conquest of New Netherland in 1664, a prelude to the Second Anglo-Dutch War. The English reorganized the six old Dutch towns on southwestern Long Island as Kings County on November 1, 1683, one of the "original twelve counties" then established in New York Province.