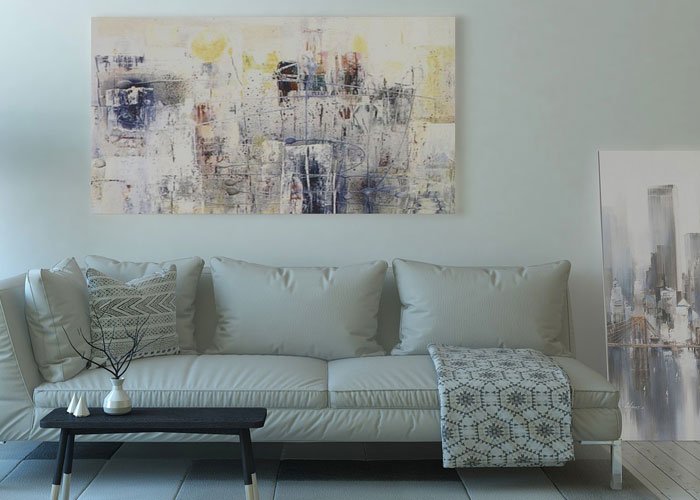 Mounted Canvas
Have you ever wanted your prints to look like a work of art? Well look no further! Our  Mounted Canvas is just what you are looking for! Jobs are printed in the highest quality on 17mil Artist Canvas, then mounted on lightweight and durable stretcher bars for a chic, minimalist effect. We have multiple options for edges and have the ability to stretch any custom size. Great for business or personal use, Mounted Canvas prints are a great way to display logo images, photographs and more. They also make great gifts!
Mounted Canvas Information•
We have the ability to "Wrap" your image in 4 different ways:
Traditional Image Wrap - The image has the proper bleed so when the canvas is stretched across the frame it continues around the frame making your artwork seamless. Ex. if you desire a 12 x 18" finished print on a 1.5" depth frame, you need to allow 3" extra in each direction to cover the frame edge (provide art sized at 16" x 22").
It is very common that the right precautions for frame dimensions and wrapping are not taken into consideration. For this, we offer these other options.
Natural (white) - the image is sized to fit the face of the frame. We then cover the  sides with the natural canvas material, which is white.
Black - the image is sized to fit the face of the frame. Our design team then creates a black fill border so the sides of your finished print are black.
Mirror - the image is sized to fit the face of the frame. Our design team mirrors the outer 2" of the photo to cover the sides of the frame. (Certain images do not lend themselves to this treatment - we will contact you if we have any concerns.)
Our customers are saying a lot of really great things about us! See what they are saying, or write a review.
Testimonials

I appreciate this so much I was a little late on notifying you and sending in the PDF and ones again your company came through and produced an amazing paper and a speedy delivery we're all all so grateful!
Sibley Dickinson
Noble and Greenough School

That's fantastic! You guys have really impressed me with these orders. I don't think I've worked with a print shop this flexible and agile the whole time I've been in art production. Thanks for the hard work! I look forward to seeing the result!
Nathan Cheatham
Cognitive Scale
Gabe, Brian,
I just want to say thank you for the amazing job you did with the postcards. They are by far the best-looking piece of campaign literature that my dad's put out since his first campaign in 2003. He's so pleased and we are both eagerly awaiting them to hit mailboxes throughout the ward.
As always, great work!
Beth

Brian, Bill and Gab, 
Just want to send you guys a quick note to thank you for the superb service you have extended to all of us at Beyond Walls over the past few weeks. I recognize that you guys put many of our orders on a rush in order to accommodate our short project timeline - thank you! Not only were all the print materials of superb quality - you guys went the extra mile with some minor design work and always delivered it with a smile. Undoubtedly the best customer service we've experienced with a print shop! Again, we are so grateful for your help, professional service and top notch product quality. We look forward to working with all of you in the future. 
----on behalf of the Beyond Walls Team, thank you!
Pedro Soto
Beyond Walls
Dear Gabriel,
Thank you very much Gabriel for all the work you put in to get the job done by 7:30. They look great. I look forward to working with you in the future. 
Andres Perez
The Revere
Kevin, thank you for the help with my campaign. I will refer as many ppl to as I can. Are you on Facebook? cause I would like to give you a  great review as well as add some pics. Have a great weekend.
Bryan Snow
Committee to Elect Bryan Snow