Do you run a business of your own? Then, you must be engrossed in trying to think of new and creative promotional strategies for your products and services. But marketing the product is not just about the advertising; you have to also make the product look appealing so that it can lure the customers and persuade them to invest in it. That is why you need to focus on the packaging of the product too. You should take special care in hiring a professional service to do the packaging and labeling for your brand. We, at Park Press Printers, can help. We are an experienced and reputed company known for our union label printing, offset and digital printing, large format printing, newspaper printing, die-cutting, lamination, and union packaging, and union kitting services. We have been in this business for 80 years and are aware of the packaging needs of the customers. So, if you also want to enhance your brand identity with expert packaging, you can resort to us.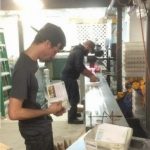 Here, we have enlisted a few tips that will help you decide on the right packaging service. Take a look.
If you want to make an impression among your target audience with your packaging, you have to look for creative people. You need to hire a company which has a creative team to do the packaging of your products. They should be able to pick the right texture, finish, and color scheme so that your audience is lured towards the product.
Even though packaging can make a huge difference to your brand value and sales, you have to stick to your budget. There are other aspects of the business which needs the capital too. So, you should take quotes in advance from the companies and then compare them to find the one with the lowest rates.
So, if you think we can be the right choice for your packaging needs, then contact us today.