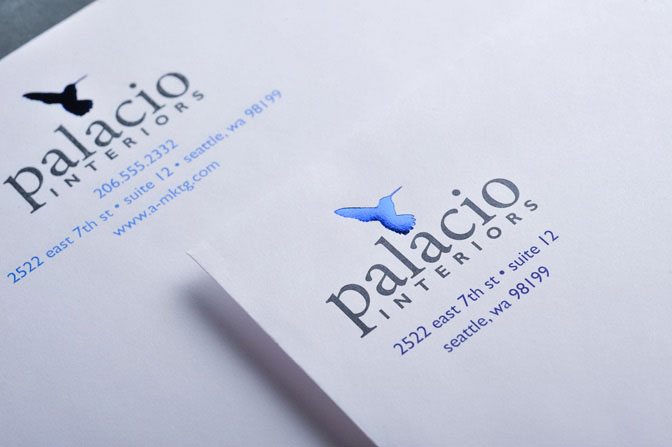 Raised Ink Printing
Business Cards
Letterheads
Envelopes
Note Cards
Invitations
Offset thermography, also known as heat raised printing or raised ink printing, is not only beautiful to look at...it's beautiful to touch! We've all run our fingers across elegant raised print and enjoyed the feeling of luxury. Now that luxury is available to everyone at an affordable price. With improvements in technology, thermography has become a practical alternative to standard printing.
Although thermography looks a lot like engraving, it is created using a completely different process. This process starts out like regular offset printing, but before the ink has a chance to dry, a special resin powder is dusted on top. A vacuum removes any powder that strays from the inked surfaces, leaving behind only the original lettering or design. The document is then heated and the elevated temperature causes the ink to puff up, resulting in a raised glossy effect. When desired, it is possible to use clear ink to produce glossy effects without color.
Once upon a time, special printing was reserved for exclusive projects such as fancy invitations. Today, thermography has a wide variety of applications, such as raised-print icons and symbols that embody the spirit of your product, service or business. Think elegant script, trendy logos or union labels. Thermography can add the extra oomph you're looking for to make a lasting impression. Consider thermography for invitations, diplomas, business cards, letterhead, envelopes, union bugs and special printing needs. Incorporating a raised ink union bug on your project is a guarantee of expertise and fair labor practices. Only authorized union printers such as Park Press can offer union thermography printing services.
Raised Ink Printing Information•
Raised Ink or thermography adds a sophisticated touch to your 1 or 2 color imprints!
Select: Choose to have your artwork imprinted in Black Ink only, 1 Color or 2 Color.
Down below, you will see the choices of Paper Stock Styles within each individual category to choose from (example: Bright White - Standard Bright White (80# Cover)). We offer a large variety.
Choose your Ink Colors from down below. If you need a specific PMS ink color that is not listed, be sure to type in your desired colors.
Choose your Options: Rounded corners, bleeds, close or exact registration, heavy ink coverage (covering 33% area of business card or more) or screens.
Turnaround: Please allow at least 5-7 days for PMS color match orders. Standard colors can be shipped after at least 3-5 days. Turnaround time starts the day of proof approval if proof is approved by 3 PM EST or the next day if after. All turnaround times are subject to approval by our production department.
Our customers are saying a lot of really great things about us! See what they are saying, or write a review.
Testimonials

I appreciate this so much I was a little late on notifying you and sending in the PDF and ones again your company came through and produced an amazing paper and a speedy delivery we're all all so grateful!
Sibley Dickinson
Noble and Greenough School

That's fantastic! You guys have really impressed me with these orders. I don't think I've worked with a print shop this flexible and agile the whole time I've been in art production. Thanks for the hard work! I look forward to seeing the result!
Nathan Cheatham
Cognitive Scale
Gabe, Brian,
I just want to say thank you for the amazing job you did with the postcards. They are by far the best-looking piece of campaign literature that my dad's put out since his first campaign in 2003. He's so pleased and we are both eagerly awaiting them to hit mailboxes throughout the ward.
As always, great work!
Beth

Brian, Bill and Gab, 
Just want to send you guys a quick note to thank you for the superb service you have extended to all of us at Beyond Walls over the past few weeks. I recognize that you guys put many of our orders on a rush in order to accommodate our short project timeline - thank you! Not only were all the print materials of superb quality - you guys went the extra mile with some minor design work and always delivered it with a smile. Undoubtedly the best customer service we've experienced with a print shop! Again, we are so grateful for your help, professional service and top notch product quality. We look forward to working with all of you in the future. 
----on behalf of the Beyond Walls Team, thank you!
Pedro Soto
Beyond Walls
Dear Gabriel,
Thank you very much Gabriel for all the work you put in to get the job done by 7:30. They look great. I look forward to working with you in the future. 
Andres Perez
The Revere
Kevin, thank you for the help with my campaign. I will refer as many ppl to as I can. Are you on Facebook? cause I would like to give you a  great review as well as add some pics. Have a great weekend.
Bryan Snow
Committee to Elect Bryan Snow