Social Distancing Signs and Displays, Social Distancing Window Clings, and Social Distancing Decals
In Saugus, Boston, Lowell, Worcester, Newton, Cambridge, Newport, MA, and the Surrounding Areas
Social Distancing Printing Material
As preparations to reopen begin, businesses have to be well set up to protect staff and customers. At Park Press Printers we are offering a whole new line of Social Distancing Printing Material to help your business follow preventive guidelines.
This new line includes floor graphics, window clings, yard signs, DIY installation Kits, Sidewalk Signs, Banners, Stickers, and much much more. Any of these items can be customized by using standard or branded language.
Social Distancing Printing material is also ideal for families in quarantine. Our unique and customized indoor/outdoor signage collection is a sure way to create memorable celebrations.
Social Distancing Window Clings
Our window clings are ideal for a variety of window display applications, including for social distancing notices and instructions. They are easily applied and easily removed. So if you need to change your message every couple of weeks that will not be a problem. Printed on weather-resistant glossy material that can be used both indoors and outdoors, this product works well as POP signage on flat vehicle windows, retail store windows, and other businesses that may have large glass areas. We offer multiple styles including:
See-Through Window Vinyl
Window Cling: Clear
Window Cling: White
Our See-Through Vinyl Clings have removable acrylic adhesive backs, allowing them to adhere easily to clean glass or glass-like surfaces.
Window Clings, on the other hand, can be applied to the same types of surfaces, only these products rely on static electricity in order to "cling" to a surface.
The best part, the images printed at Park Press Printers are near photo quality.
Sizes
See-Through Window Vinyl

sizes starting from 6" x 6" up to a maximum of 59" x 120" in increments of 1 inch

Window Cling

 sizes starting from 12" x 12" up to a maximum of 53" x 120" in increments of 1 inch
Coating Options 
Visit our Adhesive Graphics page for more information.
Social Distancing Signs & Yard Signs
Celebrations have taken on a new form in the last couple of weeks. Since large gatherings are out of the question we have had to be a little more creative in the way we honor our loved ones. But through yard signs and car parades we have managed to find a fun way to get out of the house and keep the party going.
Here at Park Press, we offer waterproof Signs that will help let the good times roll.  Our rigid Coroplast, PVC, Foamcore, and Signs can be used to promote birthdays, anniversaries, graduations, and much more. They make it super easy to boost visibility and let people know to honk because it's your birthday.
Please be aware that the corrugated flute structure on our Coroplast Signs results in a very subtle linear effect (faint lines) on the product's surface
Sizes
4mm Coroplast: Available in sizes ranging from 6" x 6" to 46" x 46"
10mm Coroplast: Available sizes ranging from 6" x 6" to 36" x 36"
Coroplast Rider Signs: Available in sizes ranging from 12" x 4" to 36" x 6"
3/16" Foamcore: Available in sizes ranging from 6" x 6" to 44" x 46"
3mm PVC: Available in sizes ranging from 6" x 6" to 36" x 36"
Stock Types
4mm Coroplast
10mm Coroplast
3/16" Foamcore
0.40" Aluminum
3mm PVC
Coating Options
Curbside pickup is the new norm for a lot of businesses. And the best way to let your patrons know where to go and how to get what they need is with outdoor signs and other social distancing signs. At Park Press Printers we offer a plethora of outdoor signs including A Frame Side Walk Signs. Easy to assemble Sidewalk A-Frames hold 24" x 18" Coroplast Signs, which hang conveniently from the top of the frame using the included clips.
Along with A Frame Signs we also offer flags, banners, plastic frame signs, mesh signs, metal signs and much more. Visit our Outdoor Signs page to see all of the different signs we can offer you.
Wall Graphics and Posters
Another great way to keep your customers informed is with Adhesive wall graphics. They are produced with low-tack adhesive backing on 8mil vinyl. This product is ideal for use on almost all surfaces; office or bathroom walls, laptops, and glass windows. Wall graphics are re-positional many times over.
If quantity is something you need and money is tight, then you can the more affordable route. The time tested classic, poster. Posters can be printed 1 off or in multiples of 25.  Posters come in a variety of sizes and are available in gloss, matte, UV coating, and more. If you are interested in seeing more poster options check out our poster page!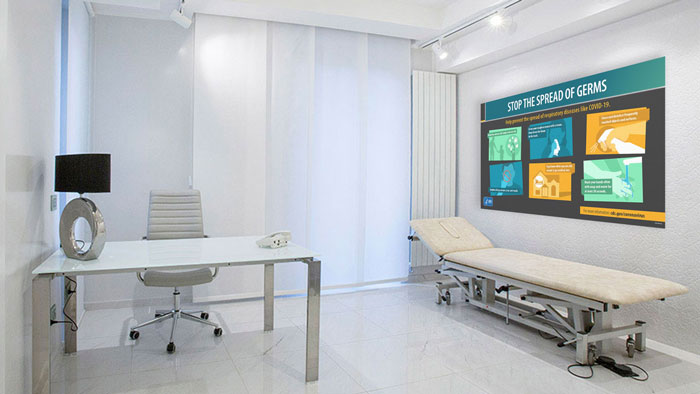 Vinyl banner graphics are printed in high-resolution full color. These banners are nylon webbing reinforced for ultimate durability and can stand up to the outdoors. Grommets and hemming are included in the pricing of this material. Other options include wind slits, and pole pockets, D-rings, heavy-duty grommets, or many other options. For Custom Banners Visit Our Banners Page.
Social Distancing Decals & Floor Graphics
Transform high-traffic floor areas into attention-grabbing ad space with 4mil Floor Graphics. Our removable Floor Graphics are ideal for interior application on most dry, clean and untextured floors.
Sizes
Available in a wide variety of sizes in increments of 1" ranging from 12" x 12" to 48" x 120"
Stock Types
DIY Graphic Installation Kit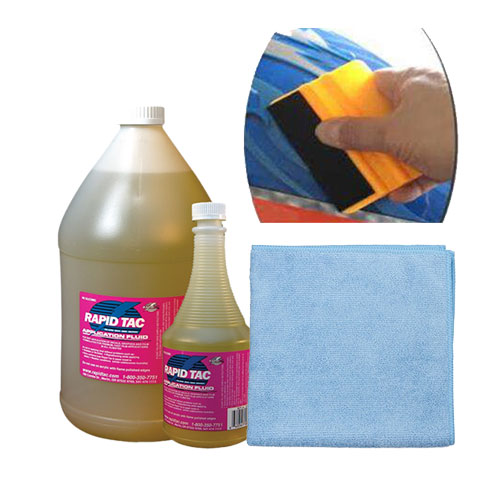 For the DIYer in the office we offer you our Graphic Installation Kit. This kit is to be used with small graphics like social distancing floor graphics and wall graphics. This kit can be used on both adhesive vinyl and window cling materials. Park Press recommends hiring a professional installer for pieces larger than 24"x24".
For purchase follow this link!
The DIY Graphic Installation Kit comes with:
1 quart of Rapid Tac solution
1 MicroFiber Cloth
1 Squeegee.
If you are distributing new goods during this pandemic, then it is crucial to have adhesive and removable labels.  Great for a variety of packaging and promotional needs, Park Press Roll Labels have a permanent adhesive that sticks well to many different surfaces. Roll Labels pair perfectly with our Paper Board Boxes and are great for use as content labels, print labels, packaging seals, and more. White ink is offered as a 5th color option on Clear BOPP and Bright Silver Metallic substrates.
For more information on the different types of labels, we offer check out our Label Page.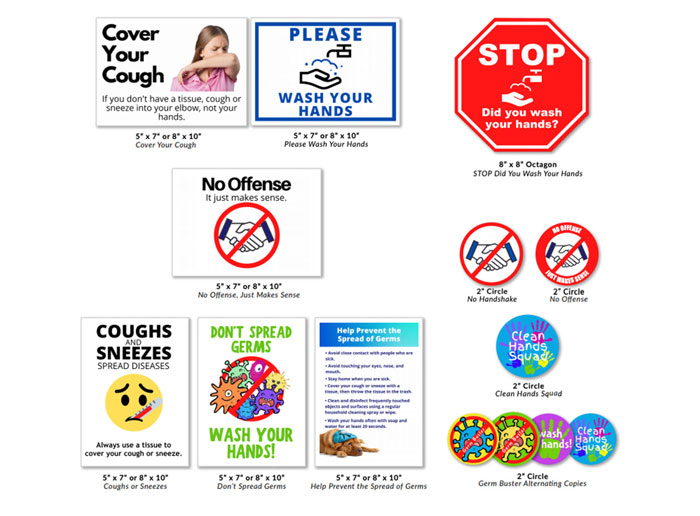 Our customers are saying a lot of really great things about us! See what they are saying, or write a review.
Testimonials

I appreciate this so much I was a little late on notifying you and sending in the PDF and ones again your company came through and produced an amazing paper and a speedy delivery we're all all so grateful!
Sibley Dickinson
Noble and Greenough School

That's fantastic! You guys have really impressed me with these orders. I don't think I've worked with a print shop this flexible and agile the whole time I've been in art production. Thanks for the hard work! I look forward to seeing the result!
Nathan Cheatham
Cognitive Scale
Gabe, Brian,
I just want to say thank you for the amazing job you did with the postcards. They are by far the best-looking piece of campaign literature that my dad's put out since his first campaign in 2003. He's so pleased and we are both eagerly awaiting them to hit mailboxes throughout the ward.
As always, great work!
Beth

Brian, Bill and Gab, 
Just want to send you guys a quick note to thank you for the superb service you have extended to all of us at Beyond Walls over the past few weeks. I recognize that you guys put many of our orders on a rush in order to accommodate our short project timeline - thank you! Not only were all the print materials of superb quality - you guys went the extra mile with some minor design work and always delivered it with a smile. Undoubtedly the best customer service we've experienced with a print shop! Again, we are so grateful for your help, professional service and top notch product quality. We look forward to working with all of you in the future. 
----on behalf of the Beyond Walls Team, thank you!
Pedro Soto
Beyond Walls
Dear Gabriel,
Thank you very much Gabriel for all the work you put in to get the job done by 7:30. They look great. I look forward to working with you in the future. 
Andres Perez
The Revere
Kevin, thank you for the help with my campaign. I will refer as many ppl to as I can. Are you on Facebook? cause I would like to give you a  great review as well as add some pics. Have a great weekend.
Bryan Snow
Committee to Elect Bryan Snow