Do you want to start a business soon? Having a personal venture is always a lucrative idea because you don't have to work for someone else. You can always follow your passion and work for an output in your own manner. But in order to make it successful, you have to invest in good marketing strategies. Unless you can make more and more people aware of your brand and its goods and services, you cannot make a great revenue. You should start using business signs for this. We, at Park Press Printers, can help. We are an established and reliable company which is known for their large format printing, newspaper printing, and union printing solutions. Along with banners, newsletters, direct mailing, and other such marketing supplies, we also Excel in business signage. We can provide you with a great variety of signage solutions which can work effective to ensure a more convenient experience for your customers and help them become more aware of your brand. With our dedication and quality, we have become a preferred choice among many business owners. So, if you are based in areas like Boston, Worcester, Cambridge, Lowell, or Saugus, then you can choose us.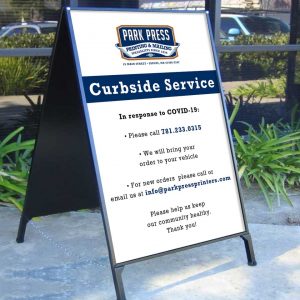 Here, we have put together a few major benefits of using business signs. Take a look. 
Marketing ideas are plenty but most of them are also quite costly. If you are just starting out, you should save money. Signage products are quite reasonable and work effectively for brand promotions.  
Signs are available in a variety. There are signage for helping your customers discover your commercial space; there are signs to advertise about your products on a vehicle or a big billboard in a busy area; and some signs are even neon lights to lead your customers when it is dark. This variety can be used to promote your business in many ways. 
And if you are interested in buying our signage solutions, then contact us now.