Fold And Assemble Boxes, Rectangular Box Packaging, Gift Box Packaging In New York
We see and use countless boxes every day, and we often don't even give them a second thought. Cereal boxes, the box the oil filter for your car came in, the box with envelopes in your office, and hundreds of more boxes cross through your hands on any given day in New York. But these boxes are not all the same, and many are designed with specific functions in mind. If you are in need of a box design for your business or product, talk with the experienced team from Park Press Printers. They have options including gift box packaging, fold and assemble boxes, rectangular box packaging, and many other styles. Call them today to set up a time to meet with them and describe what your needs are.
Fold And Assemble Boxes in New York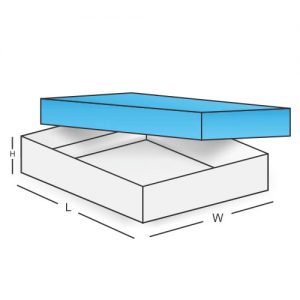 If you go into your local pizzeria you will likely see a stack of cardboard on a shelf, and perhaps several stacks. Those are fold and assemble boxes for takeout pizza, and they are perfect for your local pizza restaurant. They only use them when they need them, and can be quickly folded and assembled for receiving a pizza and keeping it protected and warm. If your organization has need of a box for occasional use that needs to be quickly assembled on-site, Park Press Printers can help design a fold and assemble box for your needs.
Rectangular Box Packaging in New York
Cereal boxes, shoe boxes, playing card boxes, and others are all examples of rectangular box packaging. These boxes are assembled already when you receive them, you just need to add the contents into the box. Sometimes these rectangular boxes do double duty as a shipping container as well as a display piece with some quick modifications. You might just need a basic box that is essentially a tray with a lid, such as for custom printed envelopes. The list goes on and on, and talking with the professionals from Park Press Printers can help you narrow down your box search to a few designs that will best fit your needs.
Gift Box Packaging in New York
Not all boxes need to be plain. Sometimes what you have should go into a well-designed and printed in a full-color box. Higher-end retailers sometimes offer to put their gift cards into a small box for gift giving. From jewelry boxes to pastries and other food items, as well as clothing and other items, having a beautifully designed gift box makes a statement about the business and the person buying as well as receiving the items. Park Press Printers can help make your gift box packaging stand out.
New York was one of the original thirteen colonies forming the United States. It is sometimes referred to as New York State to distinguish it from New York City, which is its largest city. During the American Revolutionary War (1775–1783), a group of colonists of the Province of New York attempted to take control of the British colony and eventually succeeded in establishing independence. In the 19th century, New York's development of the interior, beginning with the Erie Canal, gave it incomparable advantages over other regions of the east coast and built its political and cultural ascendancy.