Did you know that your business sign is the most important marketing tool at your fingertips? As one of the most affordable and effective marketing strategies, you can promote your brand and grow your client base through the simple creation of custom signs and commercial printing projects.
While every printing company claims to be number one, we provide our clients in Plymouth, Medford, Boston, Newton, Waltham, and the surrounding areas with supreme commercial printing from flawless, high-quality printers that get the job done right!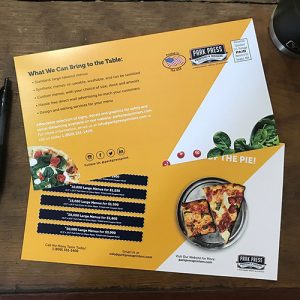 Some of our most common commercial printing projects include:
Marketing Materials – Amongst our most common printing jobs include marketing materials. From bookmarks, bumper stickers, brochures, business cards, and more, we provide you with custom marketing materials that make a statement.
Menus – Did you know that your restaurant menu design is key to a good marketing strategy? By expressing your personality, your menu should entice your customers and promote profitability.
Books – We help your business print hard and softcover books with our industrial book printers. With the development of modern technology, we make printing books easy, so any business can their own printed books for resale or reading material.
Banners – We provide your business with attractive banners that make a lasting impression. From table banners, digital banners, flags, retractable banners, and more, our printers do it all so your business can have the commercial printing needed to promote your brand!
At Park Press Printers we have over 80 years of experience serving Boston, Plymouth, Medford, Newton, Waltham, and the surrounding areas with commercial printing jobs. From holiday printing to social distancing signs and more, our term of expert designers and reliable printers gets your custom sign printed and installed in no time at all.
Arming you with the custom commercial printing jobs that make a statement, we help you make a lasting first impression. To get a quote on your next printing project contact us today!