The Coronavirus pandemic has completely transformed how we do business. With strict social distancing regulations in Brooklyn and the surrounding areas, businesses are tasked to rethink how they interact with clients and make their products and services accessible.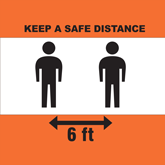 The constant opening and closing of facilities has caused challenges for businesses and has made these uncertain times tricky to navigate. We understand, which is why we're here to help with social distancing signs and other custom sign options to help you enforce pandemic regulations to keep you, your workers, and your clients safe.
Here are the top 3 types of business signs being used by Brooklyn businesses during the pandemic:
Outdoor Signs: Outdoor signs are being used by businesses to enforce social distancing regulations and inform customers of protocols such as outdoor waiting times, mask-wearing, handwashing protocols, etc. From yard signs to banners, businesses are using outdoor signs to make passersby aware of regulations.
Directional Signs: Brooklyn businesses are utilizing directional signs to get the word out about social distancing. From floor graphics to decals, these custom signs help businesses control foot traffic and the flow of clients to prevent the spread of disease.
Sandwich Boards: Sandwich boards are an attractive business sign that many small businesses are utilizing as social distancing signs. Informing clients of pandemic regulations, Brooklyn businesses such as restaurants, boutiques, and small shops are using sandwich boards as a classy and timeless social distancing signage option.
At Park Press Printers we help you create your custom signs in Brooklyn, NY, and the surrounding areas. With a range of styles, materials, and sizes to choose from we ensure that your business signs get the message across and reinforce your brand.
From outdoor signs to indoor social distancing signs and more, we're here to help you, your workers, and your clients stay safe during the pandemic. To learn more about our social distancing signs for your Brooklyn business, give us a call today at (781) 233-0315