They are all over the place. No matter where you go, you will always see a sign for a business. In Brooklyn NY, Boston MA, Saugus, Worcester, Lynn, Somerville, and the surrounding areas, it is important for your business to have the right sign to attract people to your business.
When you have the right sign, you need it to be installed as well, and that's where the trained team at Park Press Printers can help. No matter where you are installing your sign, we have the knowledge and equipment to get your sign installation done quickly and efficiently. Call today to get things scheduled for your sign installation.
Outdoor Signs Let People Know Where You Are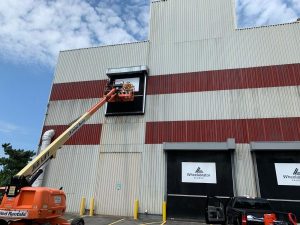 Your outdoor sign lets customers know where you are located. Not only that, but it helps to set your brand, your business, apart from the others. Having the right shape can make a difference in how people remember you and what they perceive about your business. The same goes for the colors chosen for your sign. But if you don't have it installed right, you may as well not even have a sign.
Outdoor signs often require strategic placements and may include building signs that light up for easy visibility. They also include monument signs when you are in a strip building with multiple tenants. Or you might have the luxury of having a pylon sign that stands tall and advertises your business for miles around. All of these signs require the experience of a team of sign installers that have done these before, and Park Press Printers has the right team to get the outdoor sign you want created and installed properly.
Indoor Signs Are Just as Important
Many business owners and building owners discount the importance of having the right signage inside the building. As a business owner, you want to have an indoor sign that impresses your customers and conveys the right message. That could be done with metal, wood, plastic, or other materials. As a building owner, having the right signage can help people navigate your building so that they can find the right tenant in the building, or even just know where the restrooms are. Signs as people enter the building can direct them to the right area, and signs strategically placed throughout the building can help ensure that they are in the right place, or direct them where they need to go.
Call Park Press Printers to have our team make the stand-out signage you need at your Brooklyn, Boston, Saugus, Worcester, Lynn, Somerville, or surrounding area business or building.