Part of your marketing efforts include having eye-catching graphics on your storefront windows and doors. Or you may have graphics to put on the floors that help direct clients to various spots in your facility. No matter what the reason, you need great graphics and you don't want to take the shortcut of installing these high-quality graphics yourself. When you have the team at Park Press Printers create your graphics, make sure that you also have their graphics installers properly install your graphics in your facility in Brooklyn NY, Boston MA, Saugus, Worcester, Lynn, Somerville, and the surrounding areas.
Why Professional Graphics Installers Are Worth It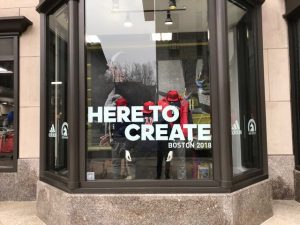 It doesn't make sense to pay good money for a quality graphics package, then have an inexperienced person do the installation. That may often cause problems, up to and including having to have the graphics fully remade because it was ruined during installation. When you have professional graphics installers from Park Press Printers do your graphics installation, you can be sure that they will be installed correctly and you won't need to have additional costs on redoing your graphics.
First, you may have graphics that need to be installed on different materials. Some graphics might be for your windows and entrance doors, both of which have glass as the material that the graphics are adhered to. Other times you may have floor graphics that are being adhered to concrete, tile, or even wood. And then there are graphics that you might have installed on curved surfaces. If you don't know the tricks for each surface type, you can quickly run into problems.
Also, keep in mind that the larger the graphics are, the more important it is to have a professional installer do the job. Small window decals are easy enough for nearly anyone to install. Larger floor graphics will require some material prep to ensure that the graphics adhere properly and won't peel off. And larger still graphics will likely come printed on multiple pieces, and it's important to understand how all of the pieces fit together… especially when the surface being used isn't flat, has curves, and even sharp corners.
Don't take chances on having a poor installation ruin your investment. Serving Brooklyn NY, Boston MA, Saugus, Worcester, Lynn, Somerville, and the surrounding areas, Park Press Printers can provide you with high-quality graphics as well as graphics installers to make sure your investment gets you the returns you need. Call and speak with the team today.