We are living through a nightmare presently. With the claws of COVID-19 gripping the planet tightly, we are all helpless. We are aware of what needs to be done as precautions but it needs to be constantly reminded to others too in order to spread the awareness better. If we do not fight together, the virus is going to get the better of us. So, if you are running a business and need to reopen your public building or commercial center, you must have these reminders around for your employees and customers that they need to maintain a proper social distance as they go about their daily activities. We, at Park Press Printers, can be the right solution for you. We offer you all kinds of large format and union label printing along with packaging materials, direct mailing, and other such services. We are known for our quality products and customer-oriented approach. You can depend on us for printing the social distancing displays and decals. So, if you are from areas such as Newport, MA, Boston, Lowell, Worcester, Cambridge, or Newton, then you can opt for us.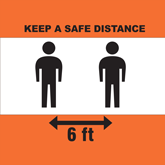 Here, we have put together a few things to keep in mind while ordering social distancing displays. Take a look.
Quality
You should understand the importance of these displays. It is not just for the awareness of a social cause but this is going to be in your commercial space so it is related to your brand. That is why if the quality is bad, it is going to affect your reputation as a company. Focus on quality products before buying.
Budget
You have to also focus on the budget while ordering such things. You should enquire about the price and see if it is feasible for you or not. Try to compare the prices with others and choose a reasonable solution.
So, if you are interested in hiring us, then contact us now.