Order fulfillment forms an important aspect for any company looking to expand its business with its products and services. Hence, not only should it be done with efficiency and punctuality, but also in a manner that helps to cut down on packaging costs. Nowadays, more and more companies are outsourcing their fulfillment needs to external firms that can assemble and mail their products to customers on behalf of them. For promoting your business, especially around the holidays, you can also take advantage of the kitting and fulfillment services, which is basically bundling two or more individual items together for promoting business sales. If you identify such needs for your business as well, then look no further because at Park Press Printers, we can offer it all! For more than eighty years, we have been one of the most reliable and reputed sources for packaging, assembly and kitting. Once you hire us, not only will you meet a friendly ad communicative staff but also one which is highly trained and qualified to work in this field. So, if you want to go the extra mile for taking your business higher, then you can come to us for all your packaging and mailing needs.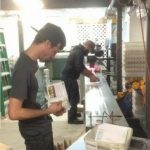 Here are two ways you can cut down on costs by opting for a professional kitting and fulfillment service. Have a look.
Packaging Costs
When you outsource your orders for fulfillment, it will save you a ton of money. Since these kits are built-in bulk at once instead of individual packing, they turn out to be cheaper too. Instead of being charged one at a time for each individual item, the kit will be charged as one unit, thereby cutting down your packaging costs.
Shipping Fee
Merchants can also benefit from the decreased rate of shipping with kitting. For instance, when sellers use a custom box for two or more things packed together, they can save the shipping fee for individual items. Since the dimensional weight is taken at once instead of being taken separately, the shipping rate also comes out to be less.
Want to know more about kitting or get a quote for your business? Then contact us now!