The key to successful marketing is basically an effective communication between the brand and the customers. You have to ensure that your target audience understands what you are trying to sell to them and how it would benefit them. In order to make this communication more glamorized, people have called it branding. There are various ways you can carry out this promotion for your brand. Right from advertisements on the media to seeking help from signage solutions, everything works wonders. But nowadays, people are also trying out some creative promotional ideas which help you strike a more personalized engagement with your customers or clients. One such idea would be mailing. Just drop in different kinds of mails regarding offers, discounts, new product or service launches, as well as general wishing on special occasions, etc. If you have a rewarding scheme for your customers, you might also want to send out loyalty card mailers. All such conversations will contribute to your brand image. We, at Park Press Printers, can help. We offer a wide range of printing solutions which will bring such marketing initiative comes alive.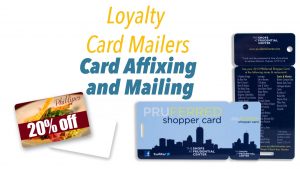 Here, we have put together a few crucial things to check when you write the loyalty card mailers. Take a look. 
You should send proper greetings to your customers while writing these mailers. Make sure there is a personal touch so that your customers feel special and a part of your brand family. Start your mails with a warm greeting. 
Try to write the content of the mail in simple language and smaller sentences. This will enable you to avoid the grammatical errors and typos which are common. And at the same time, the message will be comprehensible to everyone. 
So, if you want to send out pleasant mailers which further promote your brand and foster a healthy relationship with your loyal customers, then you can contact us today.