Flags and signage are very important tools for marketing and advertising. A company can either introduce a new line or promote their old products through these outdoor signs. Park Press has been a printing and mailing specialist since 1934. With our durable outdoor displays, you can attract and engage passers-by very easily. From large format printing, union newspaper printing to copies, letterheads, banners, newsletters, and direct mail service we offer a large variety of services. Our outdoor displays can withstand any weather conditions be it high-velocity winds or hailstorms, and are easy to transport and set up. These signage have weighted bases and ground poles added on to them to increase stability. At Park Press, you will get a wide range of displays including off-the-shelf outdoor tents, banners, and flags, and portable outdoor signage to reach out to new and potential future customers.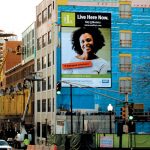 Below we have mentioned 3 types of outdoor signs that you will get from us. Take a look.
These are lightweight aluminum single or double-sided billboards that are easy to assemble and fit anywhere; no big tools needed for the process. These types of billboards include ground stakes and bungee rope. It comes with one year of hardware warranty against any manufacturer defects.
These are free-standing inflatable columns with hollow plastic bases that can be filled with water or sand. They come in 3 sizes; small, medium, and large and can be installed both inside and outside. The pumps and ground stakes are sold separately. Even this comes with a one year warranty against any manufacturer defects.
Promotional Square Umbrellas
This is the simplest form of advertising as its hardware consists only of the frame of the umbrella. Here the customized graphic part and the base are sold separately and the arms and steel pole of the umbrellas are white. Though they are strong, stable, durable, and wind-resistant, using them in severe weather conditions will void all warranty.
So, if you are looking for advertising through outdoor displays in the regions of Boston, Lowell, Cambridge, Worcester, Saugus, you can contact us.