Social Distancing Signs and Social Distancing Displays in Boston: Helping Businesses Prevent The Spread of Coronavirus
The recent outbreak of the Coronavirus has caused a global pandemic that's impacted the world as we know It. As businesses scrounge to protect their employees and clients, the concept of social distancing is not only relevant in our personal lives but it's changed how we do business.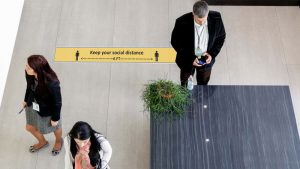 Smart businesses in Boston and the surrounding areas are creating social distancing displays to encourage customers to keep a healthy distance and prevent the spread of the Coronavirus. Not only do social distancing signs help keep the public safe, but they can also be a powerful tool to promote your business.
Taking a stand against COVID-19 with social distancing signs shows the world that your business is dedicated to the safety and well-being of not only your employees but also the public. This simple act reflects positively on your business and promotes your brand as caring and responsible. Not only will you be helping to keep the public safe, but you'll also be displaying your company in a positive light–win-win!
Social distancing displays can also bring overall awareness to your brand. Signage is known to be one of the most effective and affordable forms of advertisement, making it a powerful tool that can be used to draw in customers and increase brand recognition. Even a small social distancing sign with your logo can promote your brand and help market your product and/or services.
If you own a business in the Greater Boston area, and you're looking to encourage social distancing while promoting your business, look no further than Park Press Printers!
At Park Press Printers we help you create attractive social distancing displays that encourage a safe environment for your employees and clients. With a team of creative and professional designers, it's our pleasure to serve businesses in Boston, Cambridge, Lowell, Newport MA, Newton, Saugus, and Worcester with attractive and affordable social distancing signs that make a statement. Call Park Press Printers today to learn more!